So you're a seller looking to sell online, search for places you can be online and say you select Platform X as the best place to be. You start with the onboarding process, list your products on the platform, get orders from buyers who use Platform X, use the available delivery and payment options and complete orders.
Now picture this, as soon as you upload your inventory on Platform X, your inventory appears on all other eCommerce platforms. You are getting orders from buyers who are on Platform Y or Platform Z or Platform A. You get a greater choice of delivery partners. You have much more flexibility and visibility than before. You'll ask me how is that possible.
Take your business online with Unizap. Get your free online store in 30 seconds.
Let's look at this as a buyer, you search for a product you wish to buy online, you type the name in eCommerce platform X and get shown a list of sellers who may or may not be on the said platform. You get options in terms of payment, delivery and sellers. You suddenly have much more options than ever before, and that too in one single application.
Have you caught on yet? All of this is possible through the ONDC network. Let's start by understanding what ONDC is all about.
What is ONDC?
In simple terms, if we want to describe what ONDC is all about, Open Network for Digital Commerce (ONDC) is an initiative undertaken by the Department for Promotion of Industry and Internal Trade (DPIIT) of the Government of India to develop open e-commerce which shall aim to promote open networks for all aspects to facilitate the exchange of goods and services over digital and electronic networks.
ONDC is an open network that enables e-commerce players in the platform to be discovered and engaged by any and all applications on the network. All participant members will be able to use any compatible application to exchange information and execute transactions over the network.
It is a project initiative with very common features to that of a UPI structure used in the e-commerce aspect of a business.
The pilot phase of Open Network for Digital Commerce (ONDC) India launched on 29th April 2022 represented 5 different select geographies of the country, namely, Delhi National Capital Region (NCR), Bhopal, Bengaluru, Shillong, and Coimbatore.
What is the purpose of ONDC India?
Now that we have got a brief idea about what ONDC is, let us understand the aim that the ONDCIndia initiative is trying to achieve-
First and foremost, the purpose of a common e-commerce platform is to bring together the small-scale D2C businesses that were left out of the e-commerce space. ONDC as a measure aims to include 80% of the retail space in the country that is filled with kirana stores and small shops that are otherwise unable to participate in e-commerce activities on account of lack of expertise, scale, finances and sufficient knowledge.
Secondly, ONDC aims at expanding open networks and practically implementing the exchange of goods and services over a digital/ e-network. ONDC thus eliminates the practice of limiting the business only to a particular platform. It breaks through such practice, encouraging digital visibility and operating business transactions on more platforms rather than one at the same time.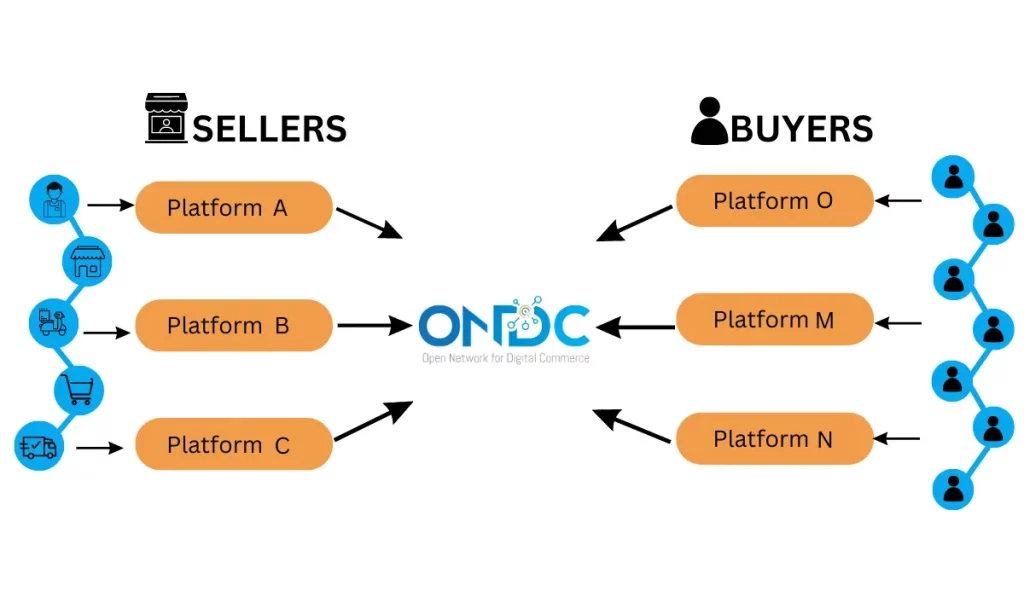 Third, for seamless business operations like cataloguing, inventory management, order management and order fulfilment, ONDC aims at standardizing the protocols for easy usage. As a result of this, small business owners can use any application of their choice which is compatible with ONDC and will not have to agree with the specific platform terms and conditions. This will provide opportunities for small businesses to be discoverable and visible over the networks and conduct their business.
What are the benefits of ONDC?
Buyers have the following benefits with ONDC:
Will have more options to choose from different sellers
Delivery services would improve with an increase in the number of local retailers
Transparency will be maintained at all levels for better customer service
Sellers on the other hand will benefit from this initiative in ways:
Accessing new customers
Better product discoverability
Lower cost of operations
Varied options for services such as logistics
Technology platforms enjoy the benefits of:
Opening up new opportunities for start-ups to stimulate innovation in different parts of the network
Access to the rapid growth of eCommerce website providers through buyer and seller-side applications
Reduced time-to-market and time-to-scale
ONDC Feature:
Next, for the features of ONDC, it can be summarized with the following mentioned points:
Architecture
ONDC's architecture is based on Beckn Protocol. It creates a decentralized network where anyone and everyone can participate. In this system structure, no one owns the data, and all the participants can interact with each other freely. The architectural feature typically includes:
A user-friendly protocol
Verifiable decentralized identity
Digitally signed bilateral transactions
Bilateral negotiation through the protocol
Data privacy & security by design
Global interoperability
Interoperability
ONDC changes the approach of closed private network platforms into an open network which facilitates interoperability among all the applications
The feature of interoperability allows the network participants to enhance their areas of strength while the software service providers can take care of the rest of the technical work to be done. The advantage to sellers, in this case, is that they no longer have to spend time or invest in multiple platforms. This leads to considerable capital savings on their behalf along with attaining profitability.
Security and privacy
By the year 2030, India is expected to attain a 500 million online-shopper base globally. With the rapid expansion of the usage of the web, more through smartphones nowadays, a major threat to data privacy emerges.
In India, in the absence of strong data protection laws, eCommerce companies can collect, store, and use data in various ways. This not only invades one's privacy but is completely unfair to every user. As a measure of this, the government is trying to come up with solutions to address these issues before going any further with eCommerce policies.
Payment Gateway Integration
The platform has many partners providing the interface from the sellers' and the buyers' sides. PhonePe is part of ONDC which serves as their payment service provider. From the buyers' side, we have PayTM as their payment gateway.
Digital KYC
eKYC or digital KYC is electronic Know Your Customer. It is a remote, paperless process which is cost-saving and minimizes traditional bureaucracy otherwise required in the KYC process. To reduce malpractices of falsification of identity, signatures and phishing, technical companies have come forth with solutions to develop completely secure eKYC processes with zero margins of commission.
To be a part of the ONDC platform, participants will mandatorily have to be KYC-compliant. They have to go through the full testing of the protocol. Moreover, every network participant will have to agree with ONDC, to imply that they will adhere to the already prevailing and evolving policies in the future. Failure of this will lead to penalties and suspensions.
Stakeholders in ONDC:
Stakeholders refer to individuals or groups who have an interest or concern in the activities and outcomes of the organization. They can either affect or be affected by the operations of the business. The primary stakeholders in any corporation are the investors who invest in that company, the employees, its customers, and the suppliers.
We now look into the various stakeholders in ONDC:
Government of India
The Indian Public Sector bank, Bank of India is known to have acquired a  5.5% stake in ONDC for Rs 10 crore which is about 10,00,000 equity shares at  Rs 100 each,
e-Commerce companies
With the increase in the push to the indigenous ONDC platform, various e-commerce companies can be seen onboarding ONDC. For example, the existing e-commerce giant Flipkart has also come on board with its logistics arm eKart Logistics. Along with them, we have market leaders like Google, Reliance-backed company Dunzo, and Reliance Retail to provide specialised services.
Customers
There is a saying "Customer is King." And so it is. Customers form the most vital and major component of any business as so for ONDC. The initiative can only be fruitful and successful only when the needs and demands of customers are fulfilled efficiently and their requirements are kept in mind. 
Banks and Payment Gateways
Various banks have linked themselves with this project. To name a few,: HDFC has partnered with ONDC, Kotak Mahindra Bank along with Axis Bank to provide facilities for payment gateways. Other banks like the State Bank of India (SBI) and Punjab National Bank (PNB) also have significant stakes in ONDC. These private sector banks as well as SBI are reported to have an acquired share of 7.84% each.
PhonePe provides its services as the payments service provider on behalf of ONDC. The platform even supports partners from the sellers' and the buyers' side of the interface. PayTM on the other hand, serves the buyers' side interface.
The sellers' side includes names like eSamudaay, eCommerce Platform Unizap, ERP player Gofrugal, a digital business platform for enterprise business Digiit, and digital marketing outfit Growth Falcon. 
Challenges and Opportunities
Challenges of ONDC are stated as follows – Problems that may arise:
ONDC is a complex ecosystem to implement
Transferring customers to the common platform from their known and preferred incumbents will be challenging
Monetization on the network is not very clear
It may take years before the network effect gains significant momentum without the efficient technical support of an online store builder
Initially, online retailers might not be able to make huge profits in order to invest in market-developmental programs.
A problem of lack of accountability might occur particularly at times of dealing with complaints.
Expansion of the seller base does not guarantee an improved user experience for such network users.
Opportunities that ONDC provides:
Wider reach: ONDC in terms of connecting various buyers and sellers, surely open up avenues for rapid expansion and paves the way to wider reach for businesses. ONDC allows expanding your business extents by emulsifying geographic boundaries and barriers introducing new potential customers to enlarge your customer base.
Better insights: Current market setup infrastructure cannot provide you with your respective market insights. But on ONDC, you can access the necessary business data for achieving valuable insights into customer behaviour and psychology.
Lower costs: A e-platform of ONDC would eliminate the costs of running a physical store. That would reduce the operating costs to great extents. Monopolistic market practices would eliminate management costs with respect to inventory and stock.
Improved seller/buyer experience: To enhance the buyer-seller relationship ONDC aims at providing personalized recommendations to fit your demands and requirements perfectly. It also has options for payment and real-time tracking of purchases/sales.
Conclusion:
Potential Impact
Network partners have high hopes in ONDC to make eCommerce much more inclusive and readily accessible to all its customers. Here, customers can discover any potential seller, product or service required by using the compatible application. This implies the freedom of choice of customers allowing them to match the market demands with the nearest available supply through local agents. Thus, ONDC in a way would bring about uniformity in the practice of operations in business which lacked earlier. It would also promote the inclusion of local suppliers, and make logistics operations more efficient and effective which will only lead to the enhancement of value for customers.
ONDC would bring forward SMEs, and small and medium businesses to become more visible across the country and uplift home-grown and home-breed produce in the digital market space. ONDC's collaboration with UPI will improve India's digital sector. According to Prime Minister Mr Narendra Modi, India's Digital sector is estimated to reach 1 trillion $ by the year 2025. ONDC is expected to bring about a paradigm shift and completely revolutionize India's digital commerce in the coming times.
Feature Development
Firstly, the deficiency of digital education needs to be addressed through various digital literacy mediums. Next, it is important to accommodate various regional languages and user-friendly interfaces for easy access for both consumers and sellers.
The initiative has to be promoted more widely to take into consideration more small-time sellers. A single-window grievance redressal mechanism has to be present to deal with both demand and supply issues.
Another vital feature development that ONDC has introduced and needs to be practised more extensively is the usage of regional languages for business purposes. It will aid the selling agents to sell online using catalogues along with images, brief descriptions, and text/voice in regional languages for free-flow and effective communication.
Anyone having the zest to go digital can utilize this opportunity to their best by taking advantage of this program. To finally conclude, ONDC will definitely benefit network partners on a large scale and it could just serve as an excellent option for you.
FAQ'S