Introduction
Do you want to expand your business and gain a new customer base with an eCommerce site of your own? Do you want to break free from the shackles of your everyday traditional business and venture out online? Or, do you have nightmares thinking about all the hassle that you would have to go through to build your eCommerce site? Or find the best e-commerce platforms available in India?
Well, not anymore!
If you are too busy for all the hard work that may follow from building your e-commerce site, and if the idea of building your site from scratch intimidates you, e-Commerce platforms like Unizap, Shopify, and more in this day and age of 2023 have got you covered!
How, you ask? Hold on. We have done a detailed analysis of the best e-commerce websites in India.
Let us begin by understanding what e-commerce platforms are:
With the rapid expansion of technology in today's world, and life being fast forward, customers prefer to shop online which is time-saving, hassle-free, secure, and more convenient. These features of online business or 'e-commerce' paved the way for its massive growth and expansion.
E-commerce plays a vital role in integrating potential customers with business platforms. However, the key to a successful business would be the continuous expansion of the customer base and maintaining it by providing the right kind of services at the right time. For that, you would need to have an attractive and effective online platform to manage your business throughout, known as an e-commerce platform.
And voila! You have stepped into newer realms of your business.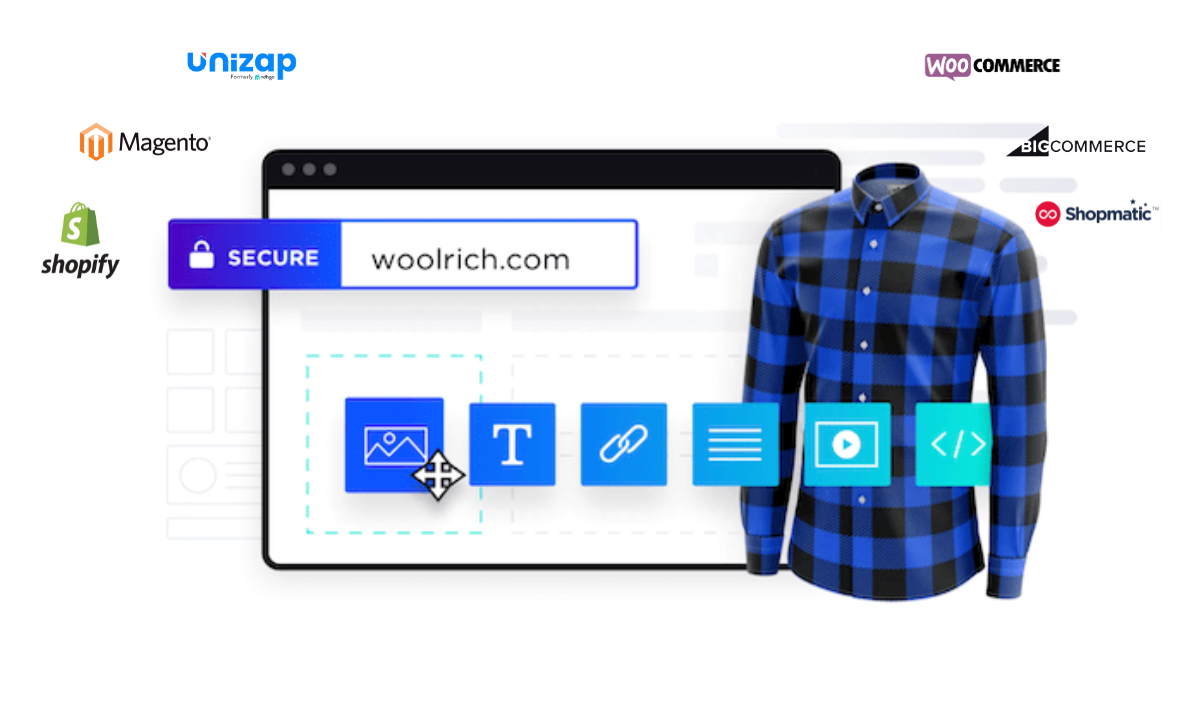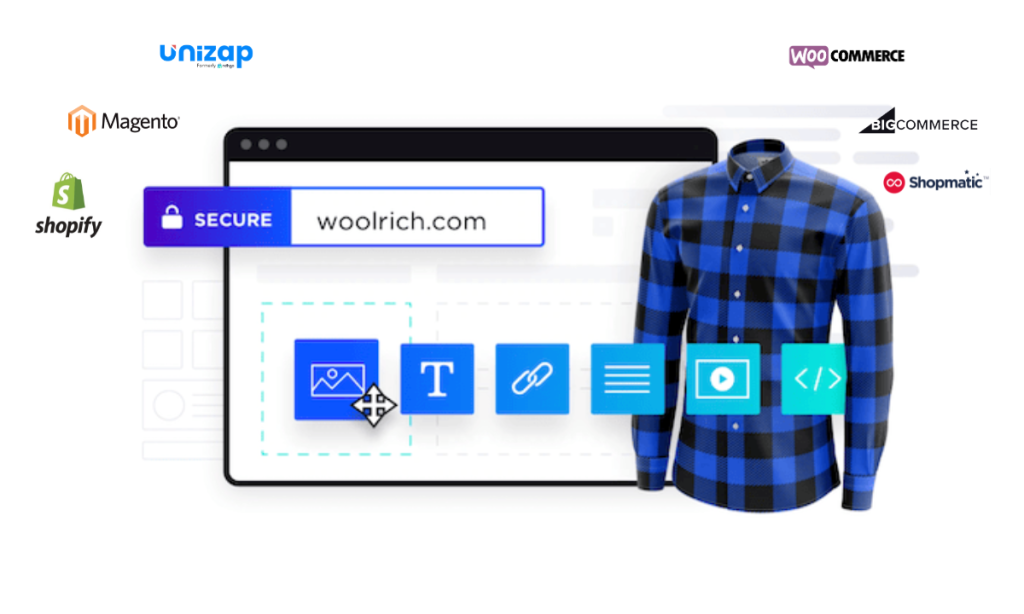 To break it down into simple terms, let us understand an eCommerce platform as an end-to-end software solution that would allow online retailers to manage and monitor their day-to-day business activities like sales management, product cataloguing, building customer relations, accounting, and inventory management systems.
Its Content Management System (CMS) and Commerce Engine Website allows all kinds of businesses – big or small, dealing with tangible goods or providing various kinds of services, B2B or B2C, to connect online and make an impact on their businesses.
Role of eCommerce platforms:
Moving forward, the role of e-commerce platforms can be summarized as follows:
The main reason we see a rapid expansion in the e-commerce platform provider services, in today's world, is to facilitate the easy exchange of goods between various buyers and sellers online, within the comforts of one's place and time.
Using a platform to go online saves time and allows the retailer to venture out at the right time and to be able to capture the market by seizing the right opportunities. Also, it is more cost-effective than building the whole website from scratch.
A business advisor is the main USP of this service. You get the ready service with expert professional guidance along with access to various other solutions that the provider has to offer. The market guidance and technical help to build the website makes your life easier!
Why should one use e-commerce platforms?
If you are a retailer wanting to venture out and go online with your business, you would require a well-built website to manage your business online. Running online stores, and building the website all by yourself may occur to be a complex and time-consuming process. It would require numerous processes and as an online retailer, you would have to be on your toes to make it all happen which may get tedious and mind-boggling after a certain point in time.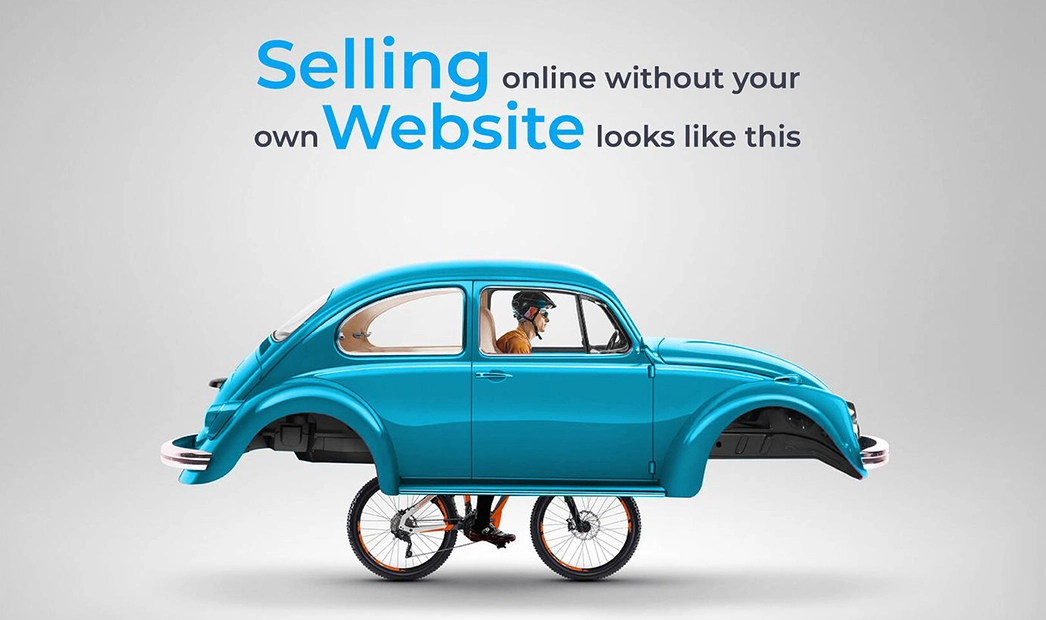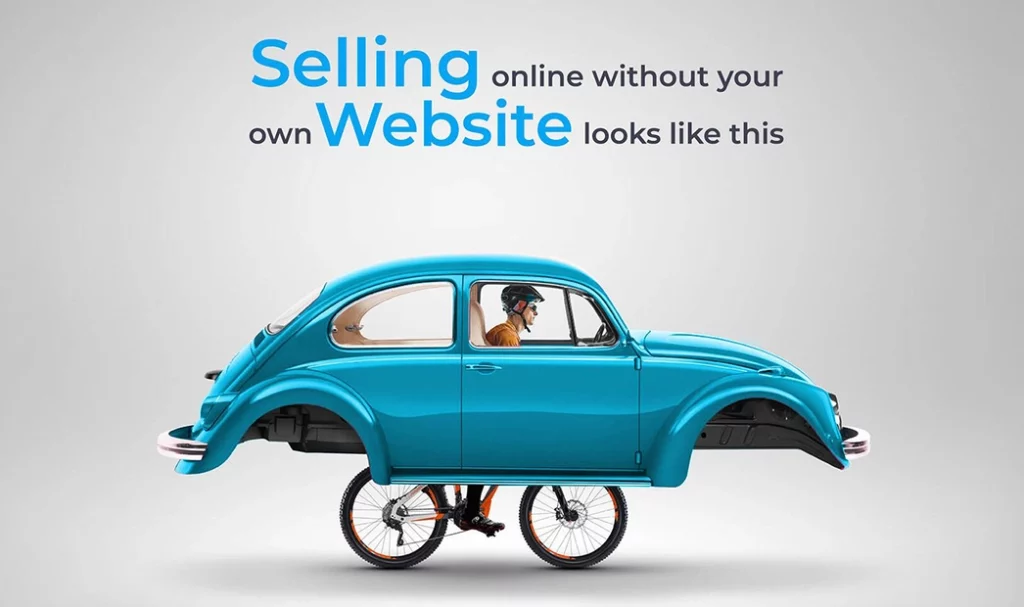 Thus, software solution companies come forward to guide online business owners in dealing with all of these issues and much more.
Advantages of collaborating with a service provider:
Here, let us take a glance at the various advantages and benefits that these services provide:
They can provide the right guidance and the professional help you require to take your business to the next level. This can be seen as an outsourcing activity to e-commerce platform providers.
eCommerce platforms would provide all the necessary components required for the smooth flow of business activities.
Along with saving time, using an eCommerce platform would prove to be cheaper and more efficient than creating software from scratch or using various plugins.
They also provide you with platform-centric processes like facilitating the purchase of customers, preventing system failures, and taking quick actions for all kinds of technical issues by helping you troubleshoot them whenever they crop up.
In this way, the retailer can focus on building strategies to improve sales and generate more revenue rather than losing time on building websites.
All these features of eCommerce platforms would make your investment worthwhile.
E-commerce platforms 2023:
E-commerce business is becoming very popular in 2023. If you are looking for the most effective e-commerce platforms in India, we have got you covered. We have listed some of the best e-commerce platforms at your disposal.
We will go through each of them in detail in this blog. But before that, let us look at the factors that are to be considered while choosing an e-commerce service provider for your business.
How to choose an e-commerce platform based on your requirements?
We will now go through the features one should prioritize when choosing the best eCommerce platform for their business. To choose the correct e-commerce platform for your online business idea, a lot of factors have to be kept in mind. A few such factors on how to choose the right online store have been listed below:
Many software solution companies require full-fledged knowledge of coding and technical skills to use HTML/ WordPress. Not all of us are equipped with such skills. So choosing a platform that has a user-friendly interface for building your website is of utmost importance.
One can try and test the various e-commerce platforms that are available in the marketplace and choose the best and the most convenient platform among them for their own business.
Along with it, look for what other resources the platform is providing to you. One such resource would be blog posts which will help the business owner to opt for content marketing with the help of SEO- optimized tools to improve the website search results. It also would provide great details on similar fields of FAQs who are looking for answers to their doubts and queries.
This feature is one of the most important criteria to look for. Customizable themes along with readymade free-to-use themes should be made available on the platform you are choosing to build your site. Various themes and templates should be offered to you to choose from.
The key to attracting customers to your platform would be a vivid, attractive website. It not only displays your product but also showcases your commitment and dedication to your business. The storefront reflects a part of the business owner. So try your best and put your best self forward.
As time progresses you would require to update your site as well. Therefore, the availability of a good number of designs is a mandate.
A business retailer must have access to their internal data. To be able to manage the web store's performance, you will first need to measure it. For this purpose, the e-commerce platform chosen has to have the feature to facilitate the collection and storage of data, along with facilitating integrations with analytics services.
To upgrade the business, one has to timely analyze the data collected and utilize it for the betterment of one's own business. Another characteristic to look for in software provider companies is flexibility. Flexibility here means integration with third-party services. The solution should support integration with different software such as CRM, CMS, and Marketing Automation.
India's best eCommerce platforms in 2023:
Shopify
Shopify Incorporation founded in June 2006, is a Canadian multinational e-commerce service provider headquartered in Ottawa, Ontario. The idea was generated by Tobias Lütke and Scott Lake. They initially tried opening an online store, Snowdevil, for selling snowboarding equipment when they realized a lack of an efficient online platform.
Lütke being a computer programmer, himself built an online store to market his products using Ruby on Rails or simply Rails, an open-source free web application, leading to Shopify. Since then Shopify has been using an open-source language, used for templates, called Liquid, which has been written in Ruby.
In the present day, Shopify is one of the best-known e-commerce platforms providing the unique feature of a drag-and-drop editor for website creation. The main attraction to this platform is its shipping management system, the special prices for carrier services provided, and advanced analytics.
Shopify provides real-time information about your business. By knowing your best-performing products, and the best-selling channels, you as a retailer will be able to further strategize your growth.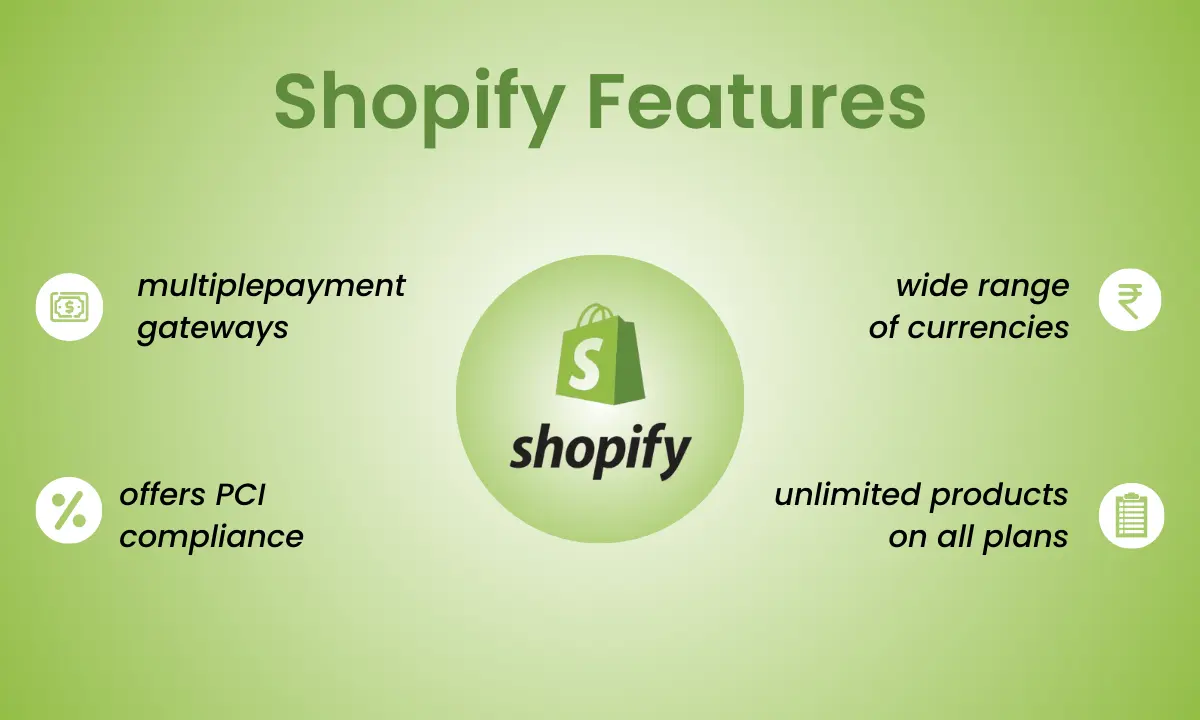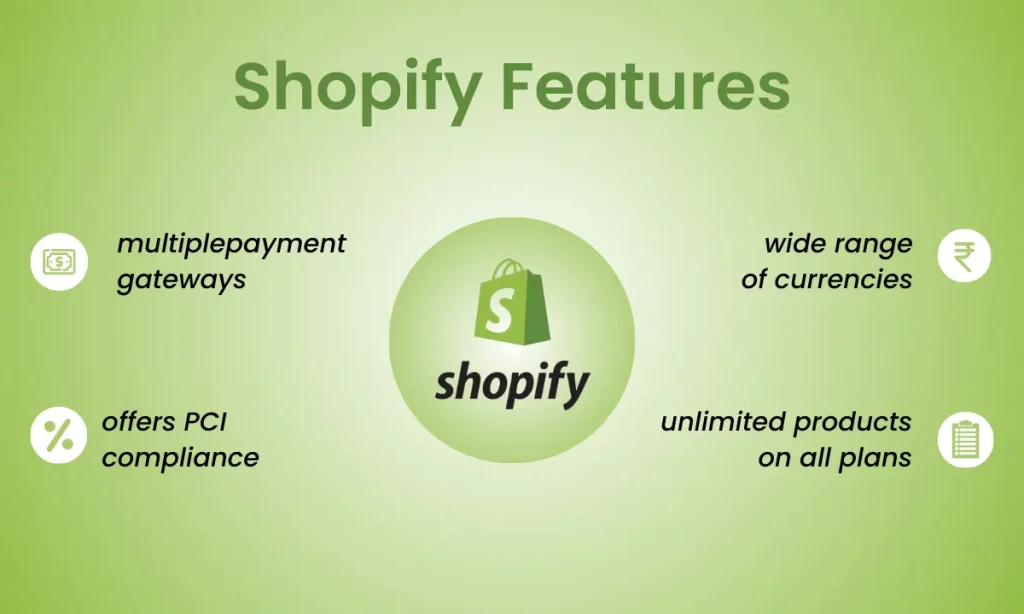 Advantages:
Supports a wide range of currencies and accepts payment via multiple payment gateways such as Visa, Mastercard, Google Pay, and Apple Pay.
For data protection, Shopify offers PCI compliance with a 3-D secure checkout system.
Offers unlimited products on all plans.
Disadvantages:
Websites made with this platform have not been able to score the best search rankings on the internet.
Very few free design options are made available.
Minimal blogging platform.
Limited customer support, available only on chat and email.
Unizap
Founder and CEO, K.P. Saha, started with the mission of achieving a simple goal of providing universal access to various e-commerce technologies for all kinds of businesses and brands. Unizap aims at providing cost-effective solutions so that everyone willing can jumpstart their online business.
Founded in the year 2020, Unizap is a private IT service consulting company headquartered in Bengaluru, Karnataka. It specializes in the areas of e-commerce, one-way channels, internet shopping, hyperlocal e-commerce, online business, SaaS, and PaaS.
The motive behind launching this affordable and user-friendly platform was to help traditional retailers go online without any technical expertise. Unizap is a simplified, easy-to-use, and powerful eCommerce platform that would facilitate you to create your online store within a few minutes.
Unizap would offer you everything you will need to operate an online business like easy access to world-class themes, the option of shipping throughout the country, along with an integrated payment system as well. The platform also provides an amazing customer support team and help center to help you accelerate your eCommerce business across the nation. It also provides you with a DIY builder and 360-degree marketing solution for easy access to the service.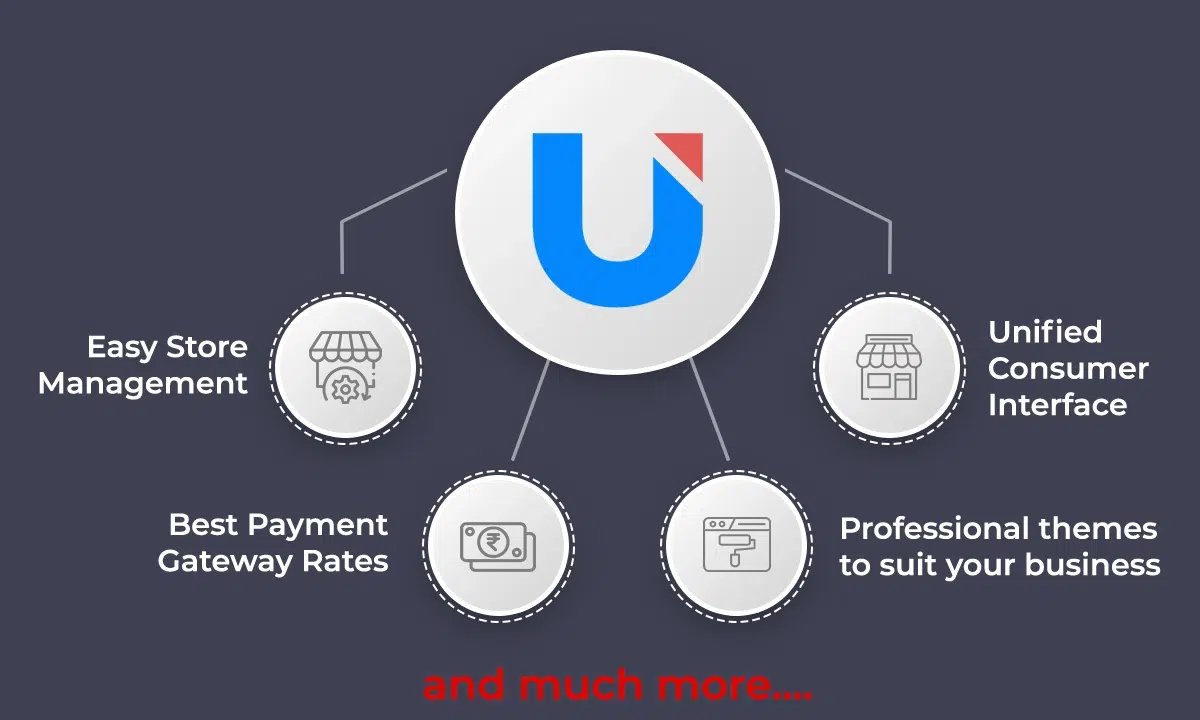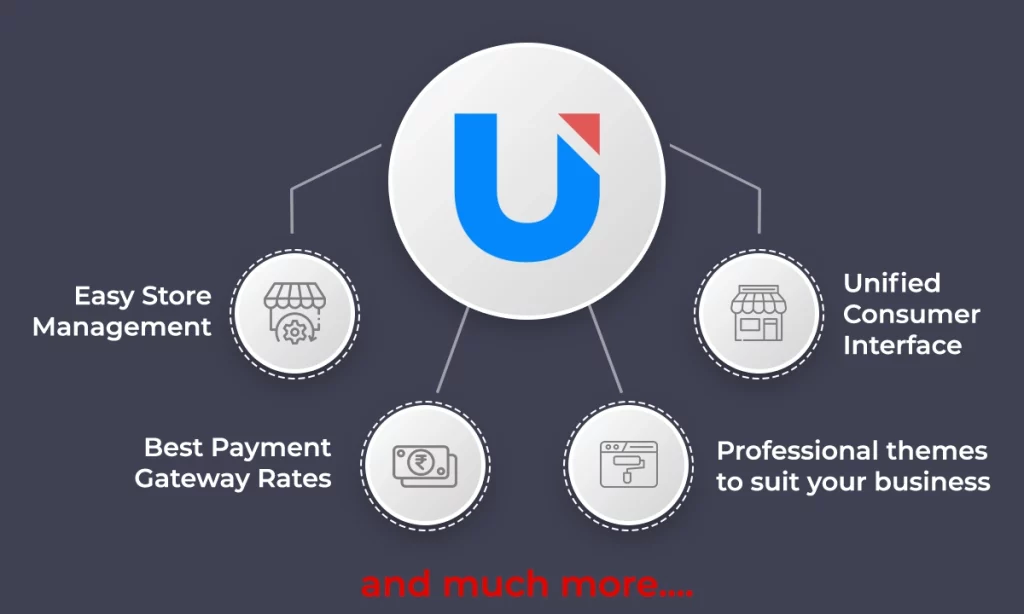 Advantages:
In addition to the tools that they provide, Unizap has a very efficient and accessible support team to look into the back-end and technicality of processes. Apart from that, it also provides you with a personalized expert advisor 24/7.
This platform has a very user-friendly interface providing multiple themes and plugins for all kinds of requirements.
The features provided by them are exhaustive and suit all types of businesses.
Disadvantages:
The website/app does not include any vernacular language.
A few more customization options can be made available.
BigCommerce
BigCommerce was an initiative of Eddie Machaalani and Mitchell Harper in Sydney, Australia in the year of 2009. Initially what started as Interspire, the store later developed into BigCommerce.
BigCommerce (Nasdaq: BIGC) is one of the leading open networks. It serves as a software-as-a-service (SaaS) e-commerce platform that enables retailers to build, innovate and accelerate their online business.
As the name depicts, BigCommerce serves as an efficient solution for big brands. They provide exclusive marketing tactics, superior quality SEO, and email marketing features in their service. Users of this platform get access to community forums and live support. The service provided also includes personalized business audits and expert advice.
To cite some well-known customers of BigCommerce, Ben & Jerry's, Molton Brown, S.C. Johnson, Skullcandy, Sony, and Vodafone top the list.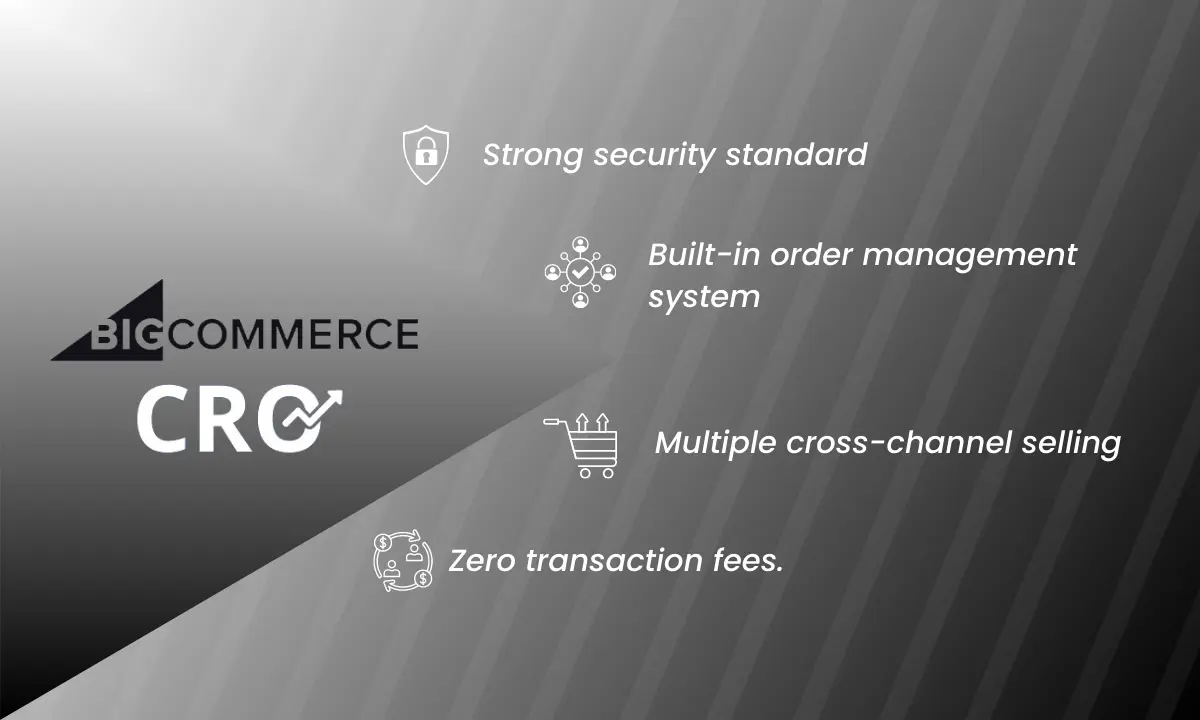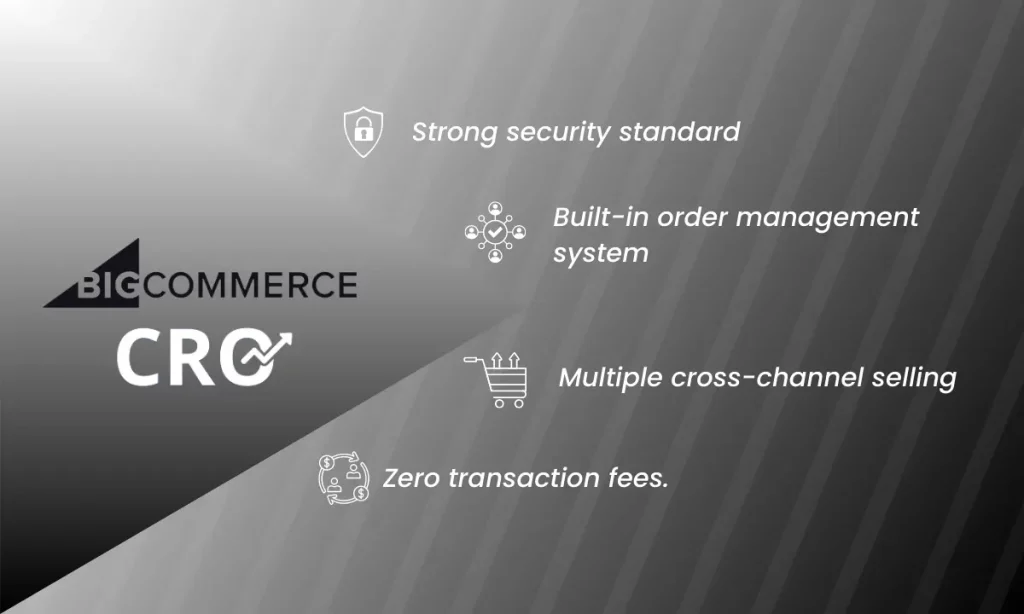 Advantages:
Has a strong security standard to protect from fraud and chargebacks.
Provides built-in order management system along with inventory management tools.
Strong setup for multiple cross-channel selling.
Zero transaction fees.
Disadvantages:
Advanced customization options are provided with HTML and CSS editors. So, if you are someone who is not equipped well enough with coding, it can serve as a complication for you.
Customer service may not be readily available and may have intermittent periods of activity.
Limited free themes.
WooCommerce
Whether you are trying to sell subscriptions, dog food, or luxury cars, WooCommerce would perfectly fit your needs. Launched on 27th September 2011, it is an open-source e-commerce platform that serves as a customisable plugin based on WordPress.
WooCommerce is the initiative of WordPress theme developer WooThemes. Mike Jolley and James Koster developed Jigoshop into WooCommerce.
WooCommerce is known to hold the biggest market share of the e-commerce platform-provider industry. An estimation reported that WooCommerce was accepted as an efficient service provider by almost 3.9 million websites.
One needs to be technologically advanced and familiar with the CMS interface to be able to operate on WordPress. The best features of WooCommerce are the innumerable add-ons that it offers. Web stores built using this platform facilitate the usage of various credit cards, bank transfers, and cash. They also provide 140 regional gateways like PayPal and Stripe among others.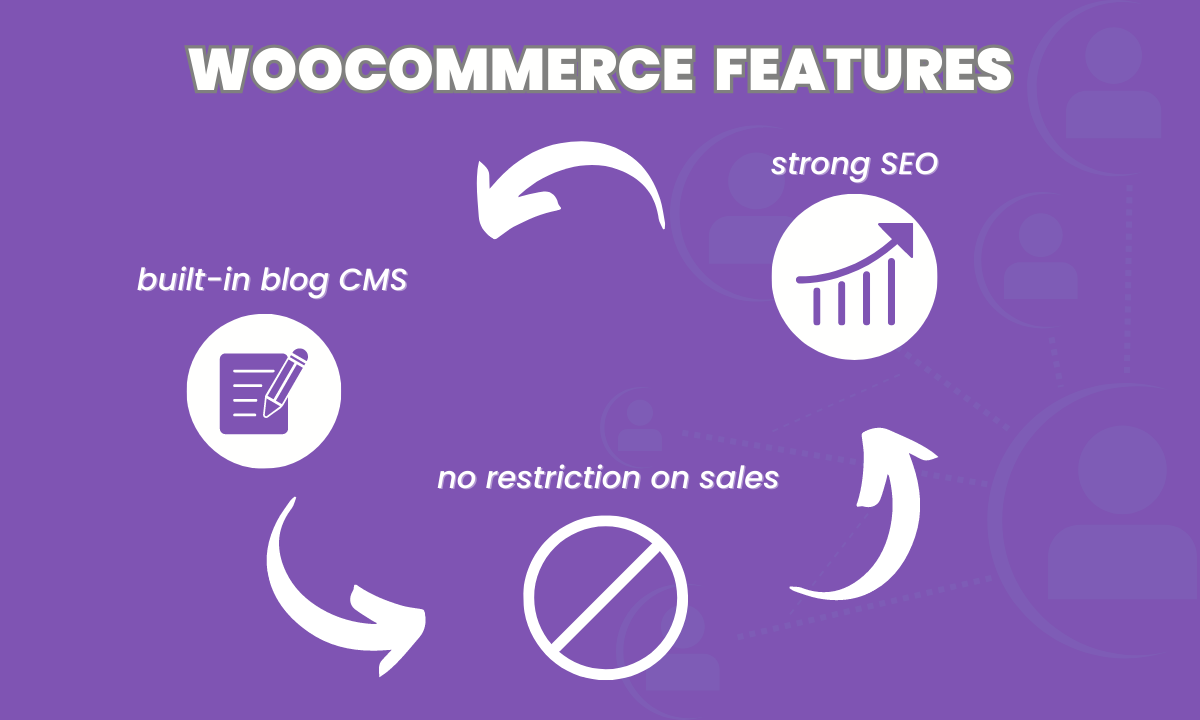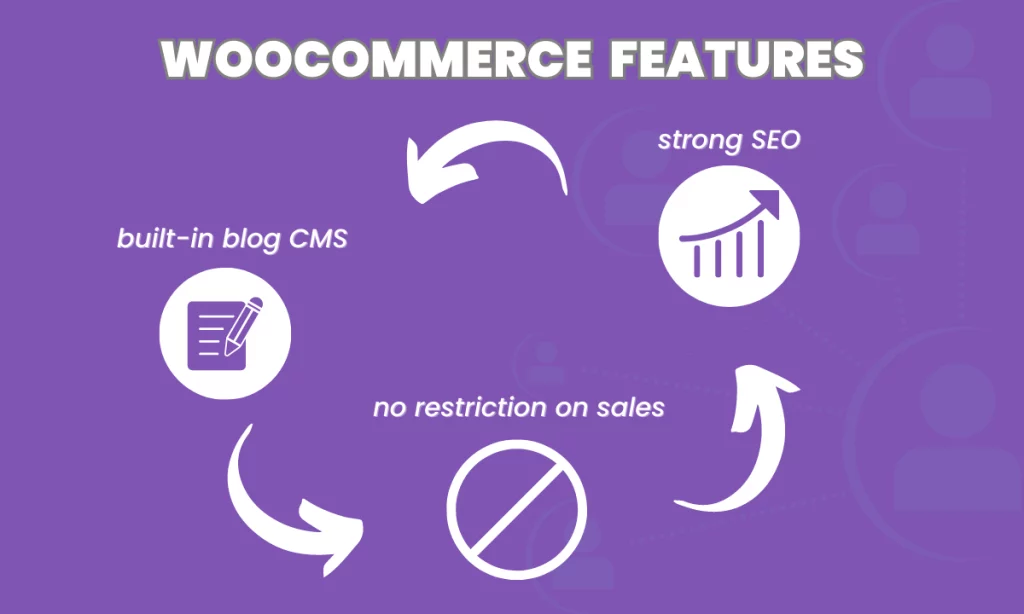 WooCommerce extensions have been able to support product-order management, automated shipping tax estimations, and mobile app facilities for both iOS and Android – to cite a few of their services.
Some of WooCommerce's extensions are:
WooCommerce Bookings – the function of this is to sell appointments.
WooCommerce Memberships – this facilitates the sale of restricted parts of the WordPress website.
WooCommerce, to guide you with your business performance, also consolidates data in various fields of sales, revenue, products, taxes, and prevailing customer base.
Advantages:
WooCommerce provides detailed reporting for in-depth analysis.
WooCommerce provides a built-in blog CMS.
It has no restriction on sales limit.
It provides a strong SEO for websites.
Disadvantages:
24/7 customer support is not available.
WooCommerce does not take into consideration the scalability of the business. As the business grows with an increase in the number of sales and growing customers, the website may slow down.
It requires a third-party payment gateway.
Coding knowledge is required to operate on this platform.
Wix
Windows Installer XML Toolset (WIX) got its initial release on 5th April 2004. It is a free, open-source software that was Microsoft's first project released on a hosted website.
You can use the Wix owner app to build and manage your website and customer logins.
It is an easy-to-use website-building app that helps you create and manage your online presence, wherever you are. Wix accommodates the SEO system for your web store. It offers personalized plans and detailed performance analytics.
Wix is a landing page creator which over the years, has added features to it to provide e-commerce solution services. The main attraction of this platform is the drag-and-drop editor.
Nevertheless, one of the downsides of this service provider is that it has low storage capacity. Due to this, the growth aspect of your business may not be supported by this website builder. It will also not work for large corporations.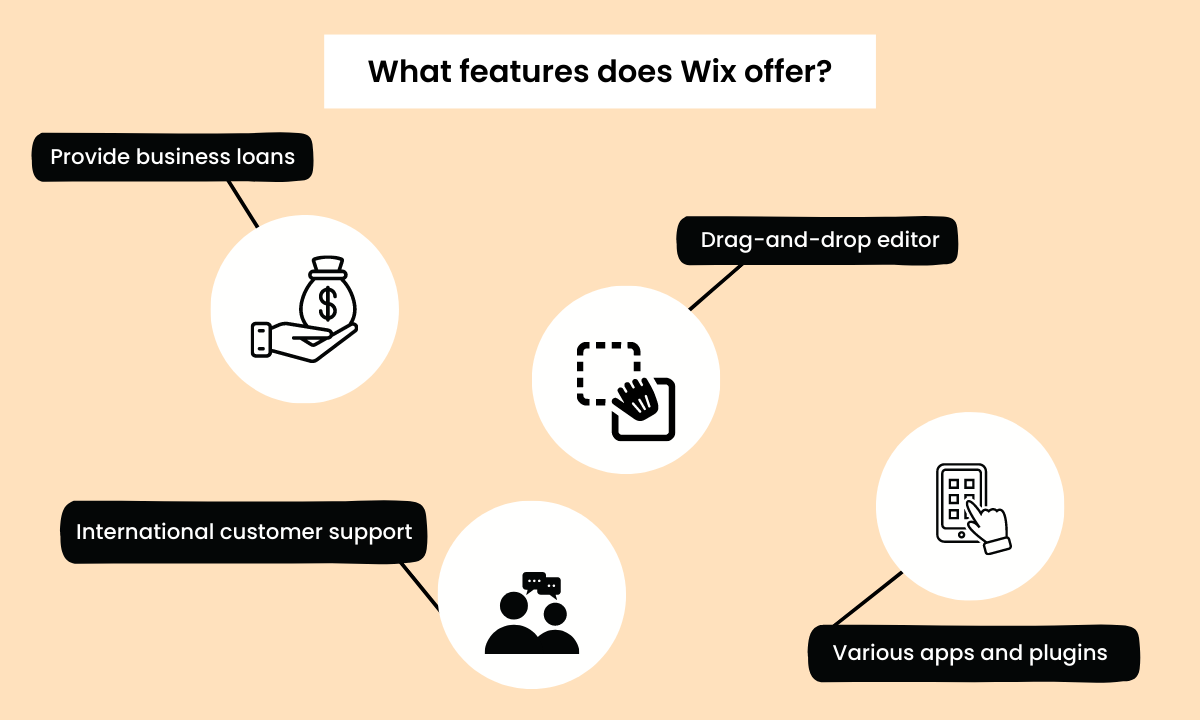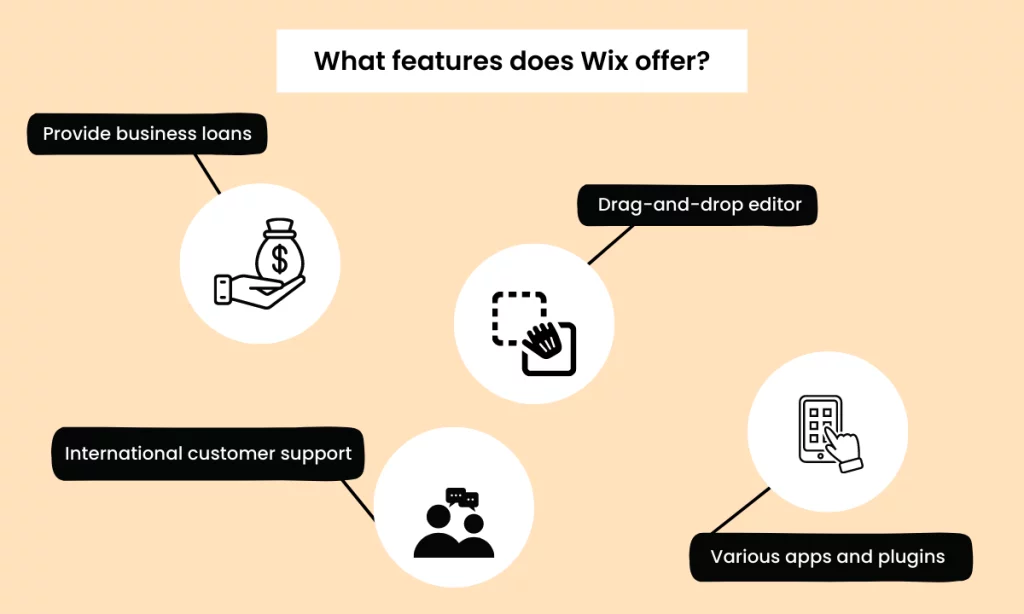 Advantages:
Wix provides business loans.
It has international customer support in 9 languages and has an in-built fraud analysis system.
Many apps and plugins are made available to enrich your user experience.
Disadvantages:
Mobile phones do not support all the themes offered by the platform.
Wix has comparatively low storage capacity which does not accommodate large businesses and also neglects the growth aspect of businesses.
The platform does not allow data export.
Ecwid
Ruslan Renatovich Fazlyev, a Russian entrepreneur, introduced Ecwid in 2009 allowing individuals and small businesses to survive and grow online. He has introduced several e-commerce platforms including Ecwid and X-Cart. Individual and small business owners prefer Ecwid for its easy installation and quick plugins.
Ecwid can be understood as an e-commerce plugin that can be installed on your website to sell products. Ecwid is such a platform that is effective for turning your existing websites into online stores.
Although Ecwid offers an 'Instant Site' facility for building a website from scratch, it has very few features and a narrow functionality. So, as a retailer, if you already own your own site, you can add Ecwid virtually to your online presence and still have the freedom to operate your website along with other online stores such as social media channels, and mobile apps.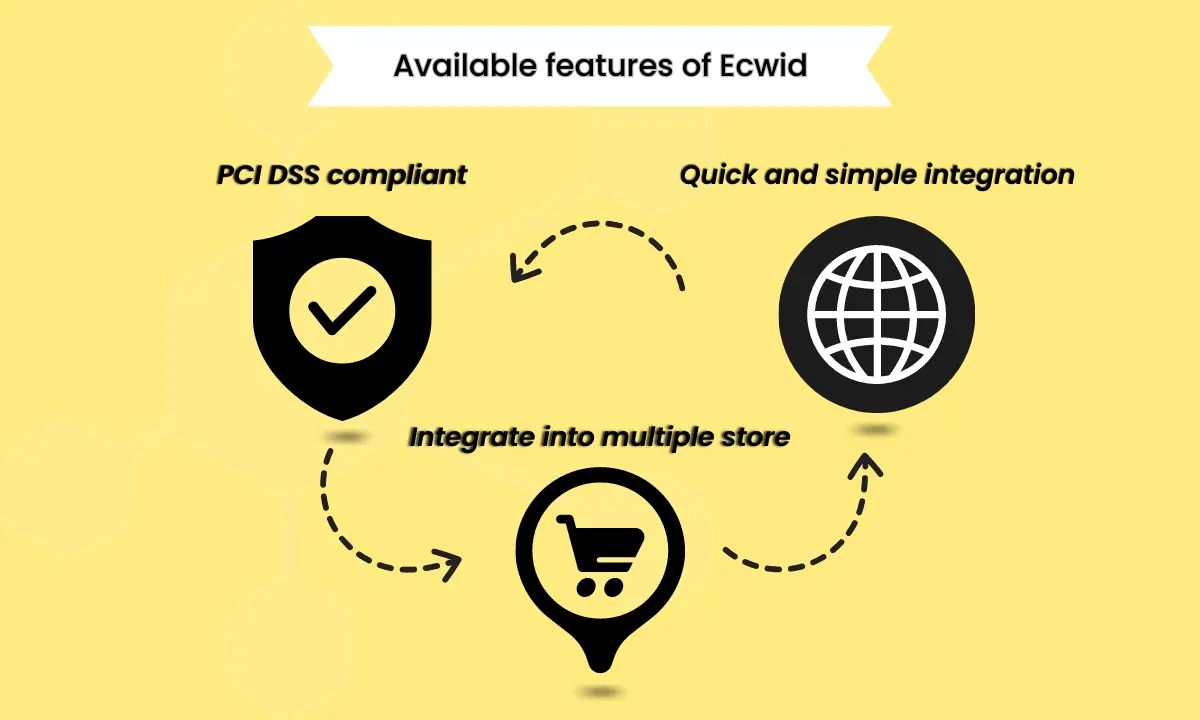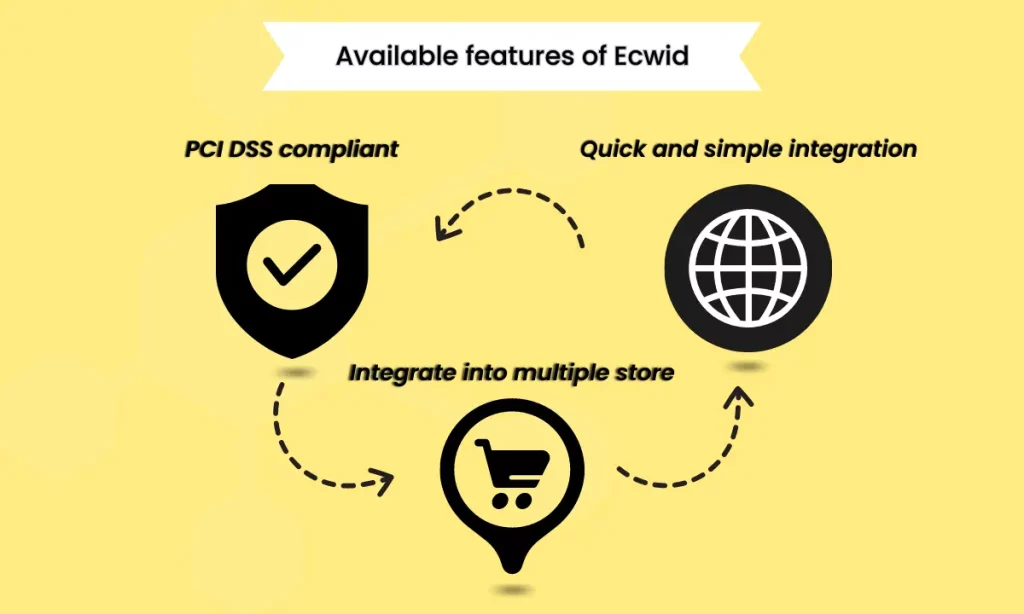 Advantages:
You can integrate Ecwid into multiple stores rather than sticking to one website.
The platform is PCI DSS compliant, which means that it meets the industry's highest security standards.
The process of integration is quick and simple, and it works well with prevailing website templates.
Disadvantages:
The multi-currency facility is available with Ecwid but it does not display the local currency at the time of check-out.
There is a limitation on the number of products that can be added to each plan.
Only if and when you pay for the plans, will you get access to live chat support. For business and free plans, you will be provided with a call-back service.
Magento
Magento, acquired by Adobe Inc, got its initial release on March 31, 2008. It serves as an open-source platform for various e-commerce businesses using PHP frameworks such as Laminas and Symfony. If you are trying to create an omnichannel website, Magento can help you create, and customize it as well.
Magento solutions are most appropriately applicable for medium-to-large organizations. New ventures and small businesses with professional IT help can also seek this service provider.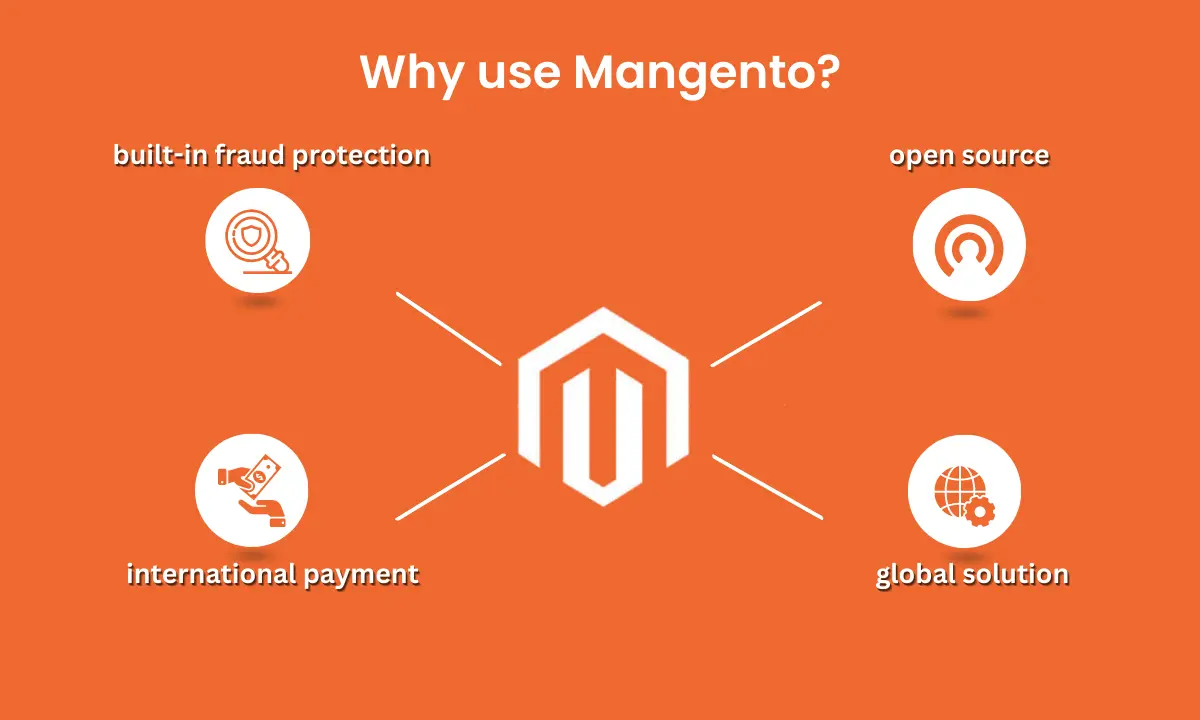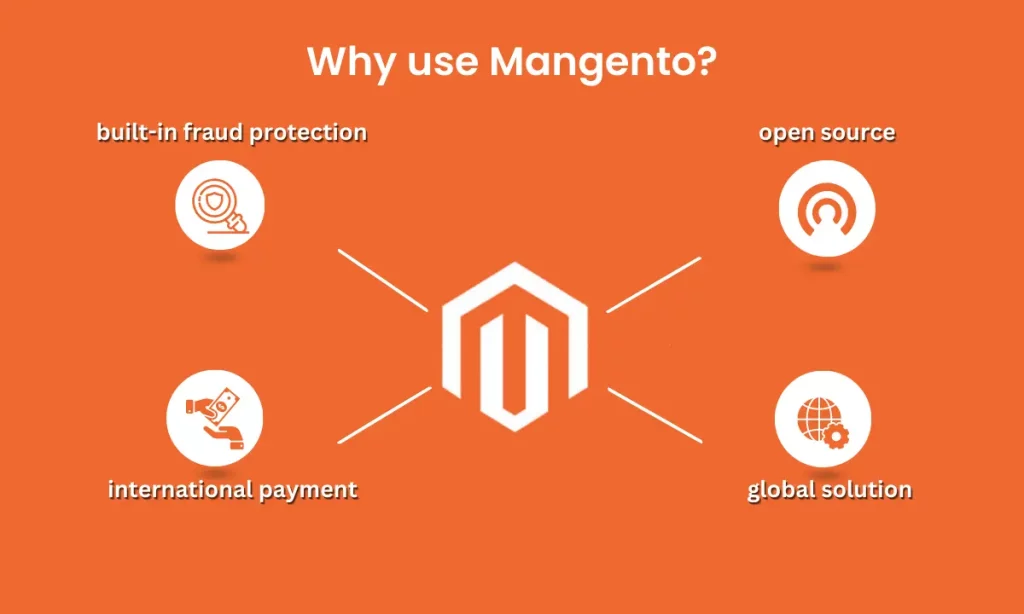 Magento released its 2.0 version on November 17th, 2015. The new features which were added included:
Improvements in security and performance when paired with PHP 7+ version
Improved database table-locking issues
Scalability of database
Easier customization with the brand new file structure
Modular code base structure, offering fine-grain customization
Better patterns of coding
Built-in client-side JavaScript minimization and optimisation
Advantages:
Allows international payment processes.
They have built-in fraud protection.
Provides a global solution.
The open source makes it viable to customize according to your needs.
Disadvantages:
Does not facilitate mobile apps for store owners.
It does not support web hosting.
It is a bit of a complex and lengthy process with Magento. So, if you are willing to venture out, an efficient team of developers is required to launch your site.
The retailers themselves have to manage their payment gateways and hosting.
Comparison Chart
If you are a market player, you can go through our analysis where we have laid down the comparison factors of the Top e-commerce platforms in India.
A comparison of a few key factors has also been jotted down below.
| | | | | | | | |
| --- | --- | --- | --- | --- | --- | --- | --- |
| Key Features | Shopify | Unizap | BigCommerce | WooCommerce | Wix | Ecwid | Magento |
| Web-hosting | Yes | Yes | Yes | – | Yes | Yes | – |
| 24/7 customer support | – | Yes | – | – | Yes | Yes | Yes |
| Mobile App access | Yes | Yes | Yes | Yes | Yes | Yes | – |
| Open Source | – | Yes | Yes | Yes | Yes | Yes | Yes |
| Blog CMS capabilities | Yes | Yes | Yes | Yes | – | – | Yes |
| Free Trial | Yes | Yes | Yes | Yes | Yes | Yes | Yes |
Final Words
Due to the presence of such efficient e-commerce platform providers, the number of online sellers in today's world sums up to approx 7.1 million, which keeps growing by the day. But, identifying and choosing the correct e-commerce platform for your business can be tricky. You will need to evaluate all the aspects to pick a service that suits your business the best.
Choosing an e-commerce platform that would enable you to create and handle your website efficiently in the initial stages of launching, i.e., without any coding or hiring a team of professionals will be the perfect fit for you. You will get a whiff of the know-how and functionality of running an online website.
These services would also provide you with additional marketing prospects as well, for when you require them. For improved performance and sufficient scale-up, you may then go for the premium facilities to access advanced tools afterwards.
Integrate your platform with Unizap and make the most of your online business with additional facilities such as email marketing, product SEO, web push notifications, chatbots, etc.
FAQ's
As a retailer, while selecting an e-commerce platform, choose that platform that provides customizable templates with an effective mobile app, only at affordable prices.
The three main types of e-commerce platforms are Business-to-Business (B2B), Business-to Consumers (B2C), and the third one, Consumer-to-Consumer (C2C).
Effective search engine optimization for your store and blogs

Organic social media marketing on various relevant digital channels 

Email marketing

Blogs and video content marketing

Online groups and professional forums
Initially, when you choose the most suitable e-commerce platform provider, you can opt to start your online business for free. But going forward, to access advanced tools, and detailed marketing analysis, you would have to purchase a suitable subscription plan according to your requirements.