Open Network for Digital Commerce or ONDC Network is a government-backed initiative that offers an open-to-all network for selling and buying goods and services which can bring about a revolution like the UPI did in India. The question is how?
Currently, in India, there is platform-centric e-commerce. Suppose a seller is listed on Platform A, customers need to go on the website or download the application of Platform A to purchase from the concerned seller. With each transaction, customers must navigate through various marketplace options to locate the relevant seller and complete their purchase. This leads to disruption in both the consumers' buying experience and the seller's business and to resolve this problem ONDC India comes as a blessing in disguise.
In a nutshell, ONDC is a one-stop solution that integrates different e-commerce platforms. In doing so it creates a chain of networks so that the sellers can be visible on other platforms too. For example, if Seller X and Seller Y are registered with ONDC and the buyer wants to purchase a laptop, he will get the options of all the sellers selling the product. So the customer can buy the laptop from Seller X as well as Seller Y. Hence ONDC grants buyers more options to buy products by accessing many platforms as it becomes more convenient for them.
Speaking from the seller's point of view, it widens the horizon of the customer's database to the sellers. This is how ONDC can emerge as a UPI for e-commerce. ONDC is designed to democratize e-commerce markets through e-commerce adoption for MSMSe (Ministry of Micro, Small, and Medium Enterprises).
Start selling through the ONDC Network with eVikaas
Get onboarded on the ONDC Network and start selling with 24 hours.
What is ONDC?
ONDC is a government-backed initiative that creates a network where all or any seller or service provider and buyer can connect on a single platform. The buyer searching for products or services through the ONDC buyer app gets hold of a variety of sellers and service providers and can also choose their sellers and service providers (like payment channels, delivery partners, etc.).
How can brands start selling on ONDC?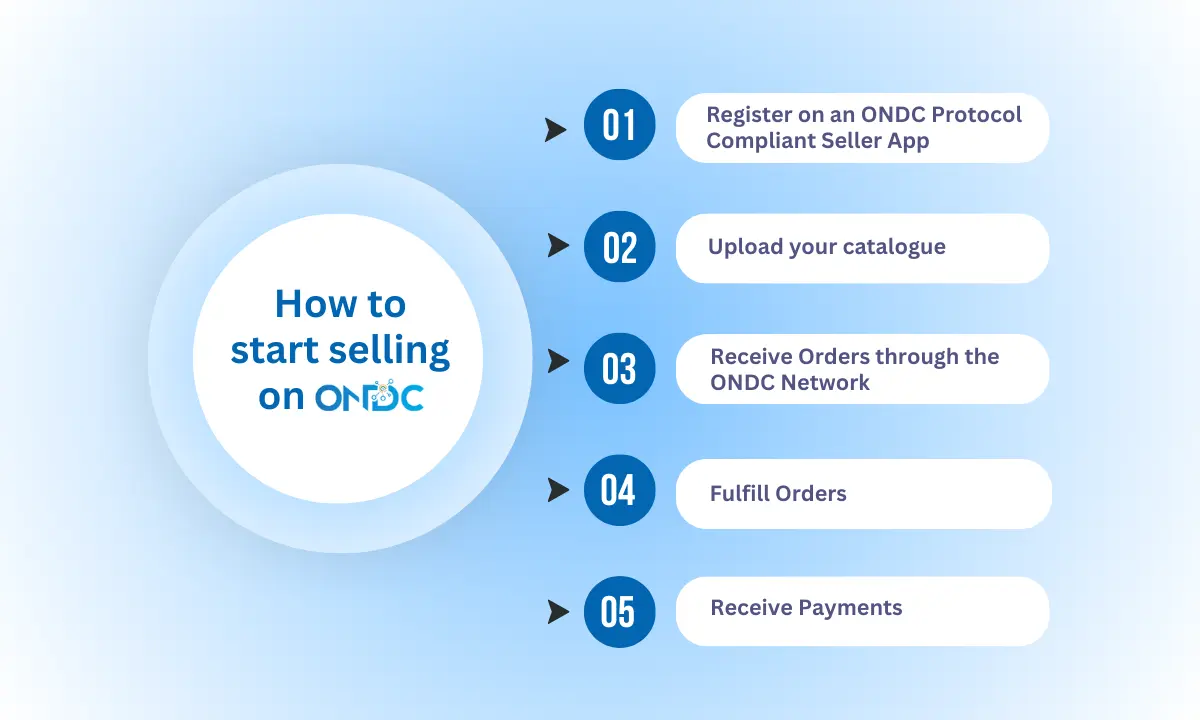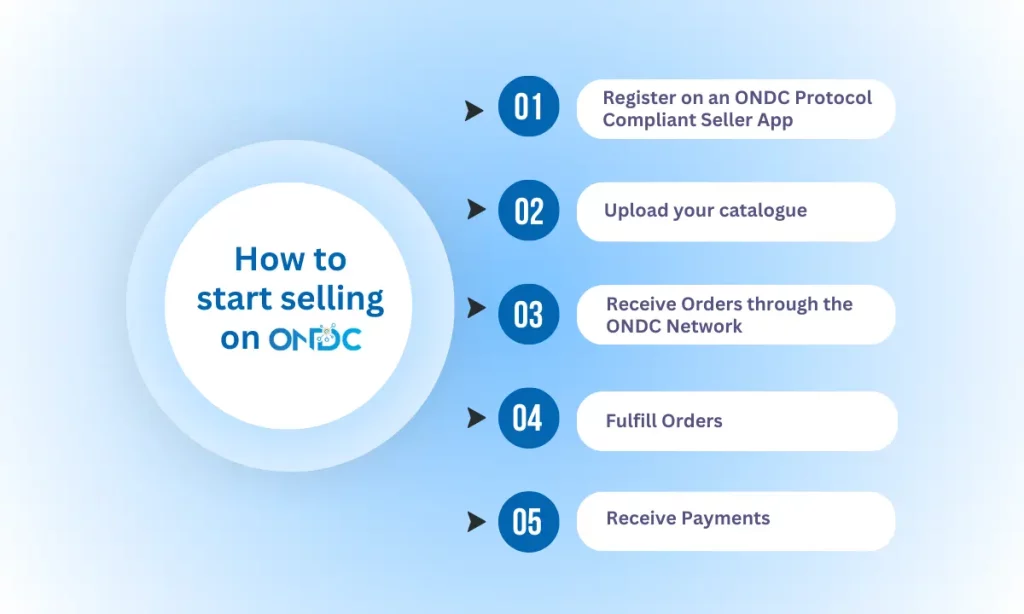 The following 5 steps need to be followed for brands to start selling directly on ONDC which will lead to new sales channels and help them grow their brand:-
Step 1: The initial step is to register an account on any one of the ONDC seller applications, where details like the company's bank account and GSTIN (Goods and Services Tax Identification Number) are needed. This information is crucial for seamless financial transactions and compliance with tax regulations.
Step 2: Once the account is set up, the product catalogue needs to be uploaded. This involves adding detailed information, such as images, pricing, and product descriptions, to attract potential customers to the platform.
Step 3: After listing your products, orders shall be received from throughout the country. This wide customer reach provided by ONDC opens up new business opportunities for sellers to expand their customer base and increase sales.
Step 4: To fulfil the nationwide orders efficiently, ONDC offers a variety of shipping partners. Sellers can choose from this diverse range of shipping options to ensure timely delivery and customer satisfaction.
Step 5: ONDC follows a pre-decided remittance cycle to facilitate the seamless transfer of payments to sellers. This ensures that sellers receive their payments on time and enables them to manage their finances effectively.
Top 10 benefits of joining the ONDC network as a seller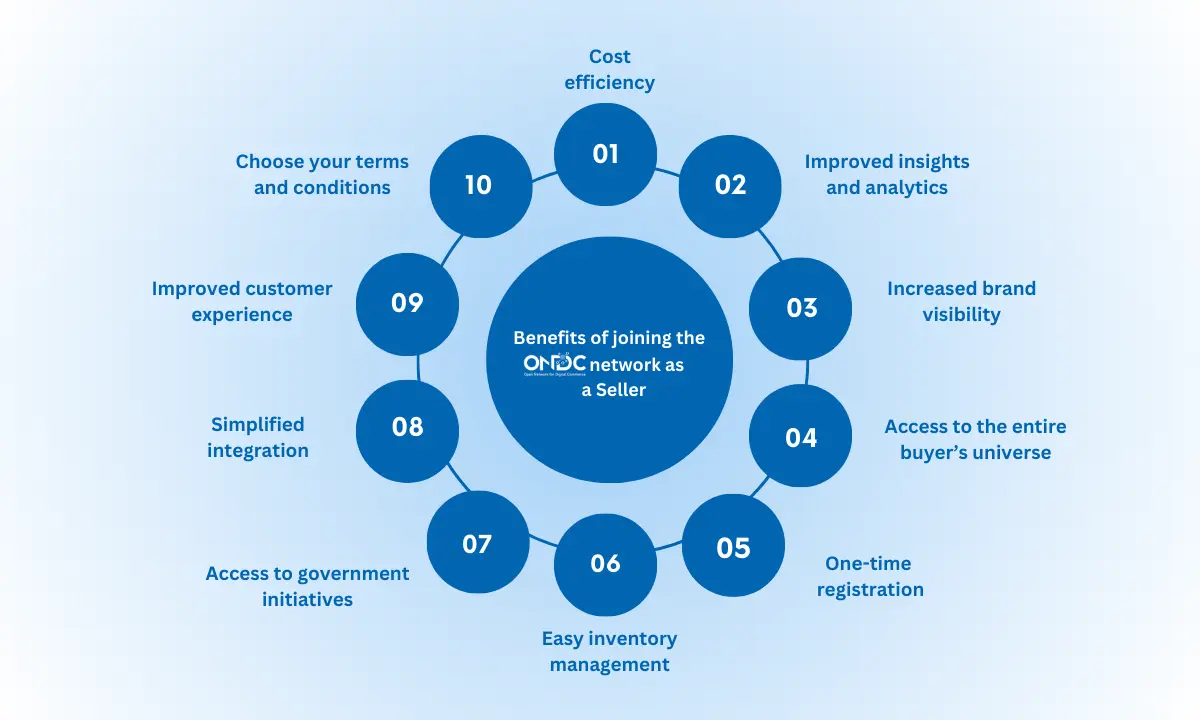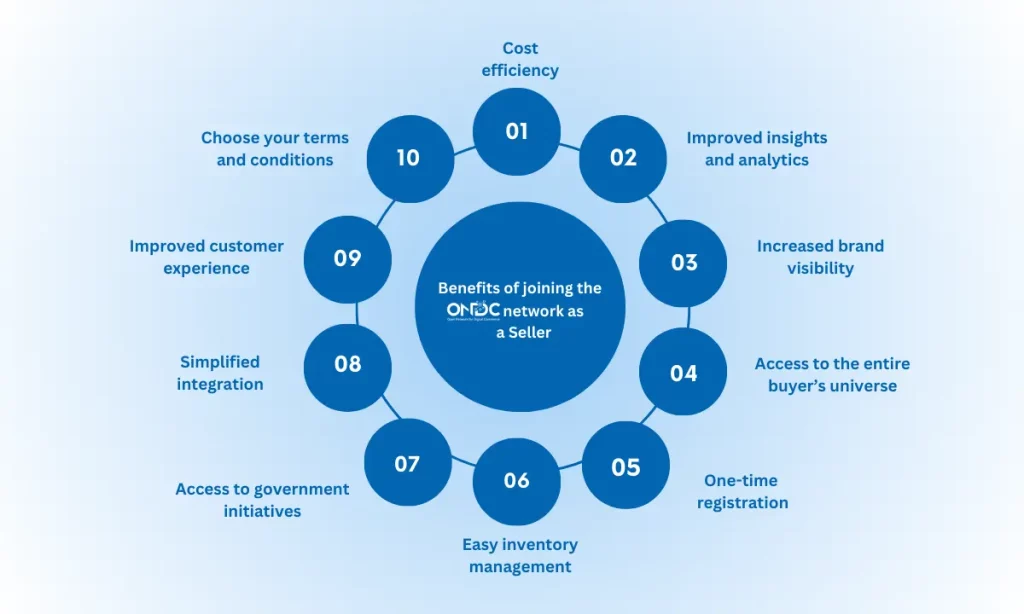 Cost efficiency- By joining the ONDC network, the sellers don't have to hire numerous technical resources to integrate with different e-commerce platforms which helps them in reducing their operational costs of maintaining and integrating individual connections with multiple platforms. ONDC thus helps sellers save on maintenance and development expenses.
Improved insights and analytics– With the help of ONDC sellers can gain important information on the sales trends, performance metrics, and customer behavior. For example, a seller can optimize its inventory management strategy by analyzing and interpreting sales data collected from different e-commerce platforms. The seller can quickly identify its most bought and popular products as ONDC provides access to a unified integration and analytics across all platforms connected. This information is not available in most marketplaces.
Increased brand visibility – ONDC provides better and more comprehensive brand visibility by providing broader prospects and integrating product catalogues. For example, by listing their product on multiple eCommerce platforms, a retailer can increase the visibility of its products, and can also attract more customers to their brand and gain exposure.
Access to the entire buyer's universe– In the current platform-centric world, sellers run the risk of being replaced by alternative platforms, resulting in a loss of access to buyers. ONDC addresses this issue by allowing sellers to transition to different seller apps without losing visibility to any buyers. This ensures that sellers can maintain their customer base and retain access to the entire buyer's universe, minimizing the risk of being replaced or overshadowed by platform alternatives.
One-time registration- ONDC eliminates the need to register your brand across multiple platforms over and over again. The user can register once and gain access to a wide range of digital commerce services. It simplifies and enhances the overall seller's experience and saves an ample amount of time, effort, and money.
Easy inventory management- Sellers can manage overselling or stockout efficiently with the help of ONDC as ONDC provides real-time inventory present across multiple platforms. For example, a fashion retailer can avoid the situation where his products are sold out on one platform but still available on another by ensuring accurate inventory levels across different e-commerce platforms.
Access to government initiatives- With the help of ONDC, sellers can expand their business opportunities by securing government contracts. Since ONDC integrates with the government, a seller can offer his or her products or services to government agencies through the GeM(Government e-Marketplace) portal which is integrated with the ONDC Network and enables sellers to participate in the public procurement process.
Simplified integration- ONDC simplifies integration for sellers through the provision of APIs (Application Programming Interface) and protocols. These tools enable seamless communication between the ONDC platform and the ONDC seller apps. This streamlined integration process facilitates efficient data exchange and system compatibility, enhancing overall operational effectiveness for sellers. This means that a seller can easily connect their order management, inventory, and other systems to multiple e-commerce platforms.
Improved customer experience– With ONDC at their disposal, sellers can reach more customers and sell better without additional effort to register their brands' presence in various markets. Since ONDC opens up a PAN India market to SMEs and D2C brands it permits access to different user segments and helps them grow their customer base to different geolocations. This enables a better buyer experience leading to increased customers and customer loyalty.
Choose your terms and conditions- Sellers with the help of ONDC can cater to their targeted customer base and maintain complete control over their business operations. ONDC provides a sense of autonomy and promotes a transparent and fair marketplace environment for sellers registered on the ONDC Network. Sellers can customize their refund policies, pricing structures, and shipping methods based on the buyer's unique requirements.
Conclusion
ONDC has the potential to revolutionize the e-commerce industry so sellers must take the early mover advantage and join the ONDC Network through a trusted, technologically advanced ONDC Protocol-compliant seller app.
Join ONDC Network through eVikaas
eVikaas by Unizap is among the early platforms that commenced integration on the Open Network for Digital Commerce (ONDC) as a Seller side enabler. eVikaas seamlessly onboards the sellers on the ONDC Network and connects them with millions of nationwide buyers. From catalogue uploads to order fulfilment, the process is hassle-free and fast. Sellers are onboarded on the ONDC Network within 24 hours of registration. This involves a simple 3-step process: Registration through the portal, uploading of the catalogue and commencement of business.
For a comprehensive understanding of ONDC, including its stakeholders, architecture, privacy policy, buyer benefits, and payment gateways, refer to this informative blog that provides detailed explanations of ONDC's workings.