Did you know an average internet user spends around 2.45 hours daily on social media platforms worldwide? That is a lot of time for you to identify prospective customers and convince them to try out your products. Your strategic social media presence can prove to be the best decision for your business.
Social Media is no longer just a time-pass platform for Gen Zs but it can also serve as a great marketing tool for your online business. People belonging to different demographics tend to associate themselves with social media due to the rapid advancements in technology. So if you are someone looking for the next big step toward business growth, you have come to the right place.
In this blog, we seek to understand social media marketing services and how social media works as a marketing tool.
What is Social Media Marketing?
Suppose you are developing a brand new idea for launching a product or executing a service. As the owner of the business or as the marketing head, you would want to promote your new venture to reach a wider customer base. What better way can you find to promote your brand other than social media?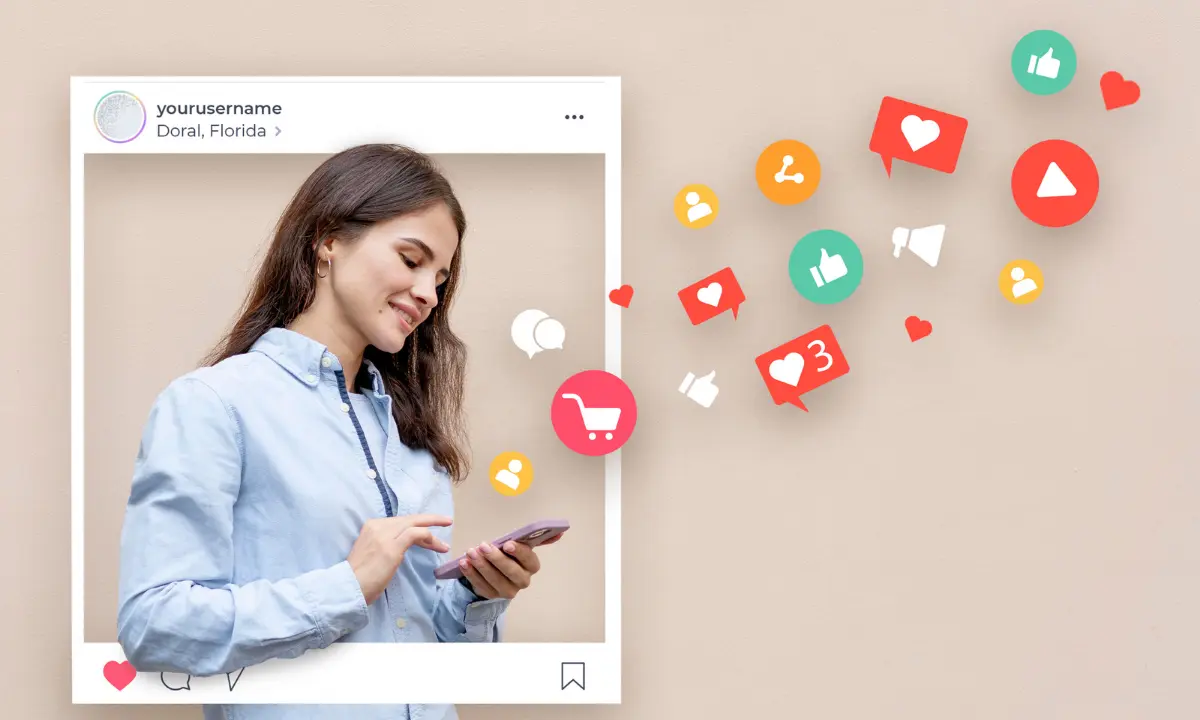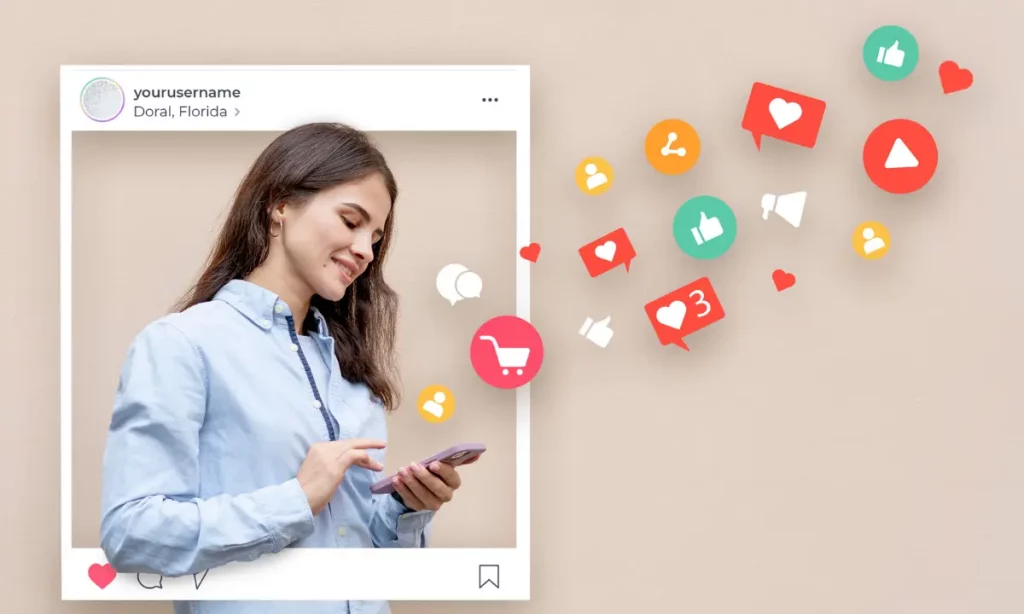 Social Media as a promotion platform can be used as an entertaining and creative content creation platform that also efficiently put-forwards your product/ service to the target group. Also, you get the best of both worlds at your disposal and at the same time too.
Social Media Marketing can also be explained as a strategic marketing tool adopted by firms at all scales to elevate their online business. It aids in leveraging your social networks to connect and interact with prospective customers. It would boost traffic and sales to your website.
As rapid advancements in technology take over our daily lives, people are now hooked to their mobile phones and social networks to consume more and more content. Instagram, and Twitter aid in promoting your brand along with facilitating sales.
Why use Social Media for Online Business?
You can share information with your customers and interact with them through your social media presence. In the modern day, Social Media presence can be viewed as more than just a marketing strategy.
Let us go through the different ways in which your social media can be efficiently used for business purposes.
Understand current customers better
A social media presence is paramount as it can be an efficient tool for knowing your customers better. You can collect information about their choices and preferences, buying history, whom they are buying the products for, and much more. It can also help you with learning who your target customers are.
Reach potential customers
Coming to learning who your target customers are, Social Media Marketing is an easy and cost-effective method that can be used to reach out to your potential customers across varied platforms. It would increase your sales while promoting the brand name if you can catch the interest of the public with your engaging content. Come up with good content and execute them through innovative ideas for attaining a wider audience.
Increased Brand awareness
On various social networking sites, within a limited budget, you can advertise your small business. Try to create engaging content that would make prospective customers want to know more about your brand and business. Social Media has a visual appeal that allows you to build your visual identity across different networking platforms enhancing brand awareness.
Increased brand awareness would also benefit your company's other campaigns leading to better results. More digital visibility would mean people becoming more and more aware of the brand and ending up making a purchase.
Understand your competitors better
Keep an eye on competitors' social media strategies. It will make you understand and learn the market better along with the new social media trends prevailing in the market. By doing so, you can also develop ideas to strategize for your own business and observe what is working in favor of your competitors and what is not.
Build strong Customer relations
Try to perceive Social Media beyond aesthetic posts and catchy captions. Social Media can work more than that for you. Word-of-mouth promotion is the best form of self-promotion. Enhance that first and nurture these connections. Building long-lasting customer relations will take you miles.
You can use the platforms to connect to different demographics of customers. Also, you can provide different services via different platforms. For example, you could use Instagram to build a customer base and Twitter to provide customer service for social media.
Benefits of using Social Media for Business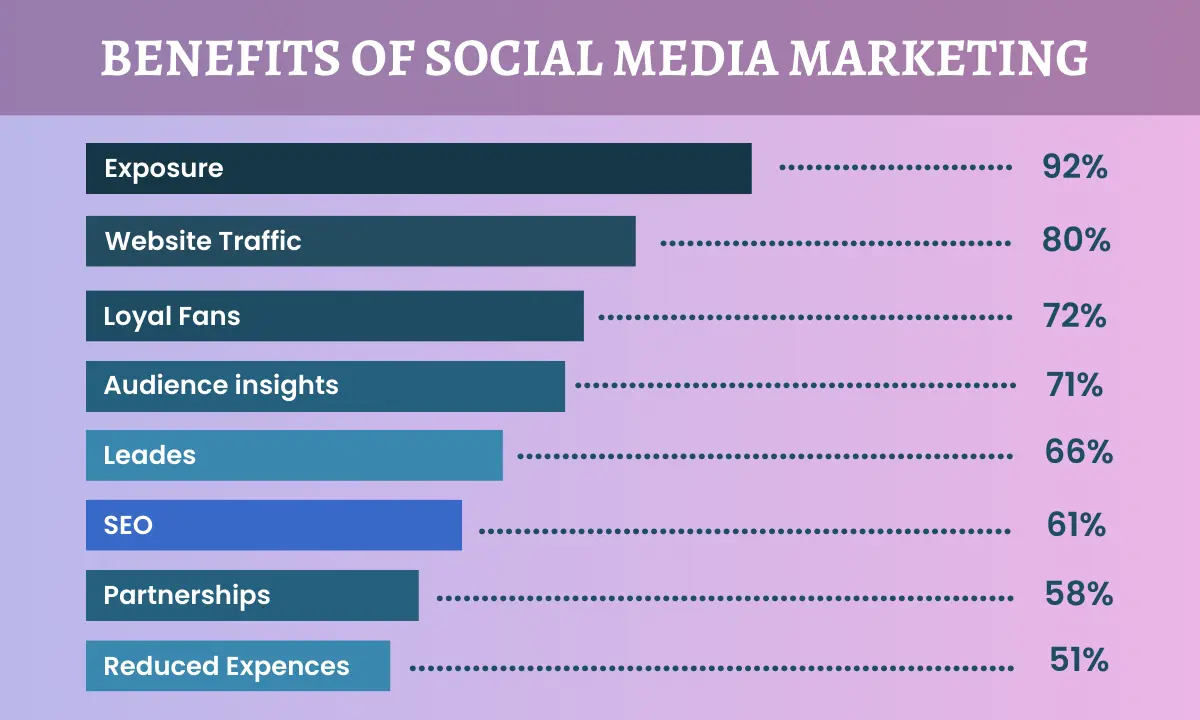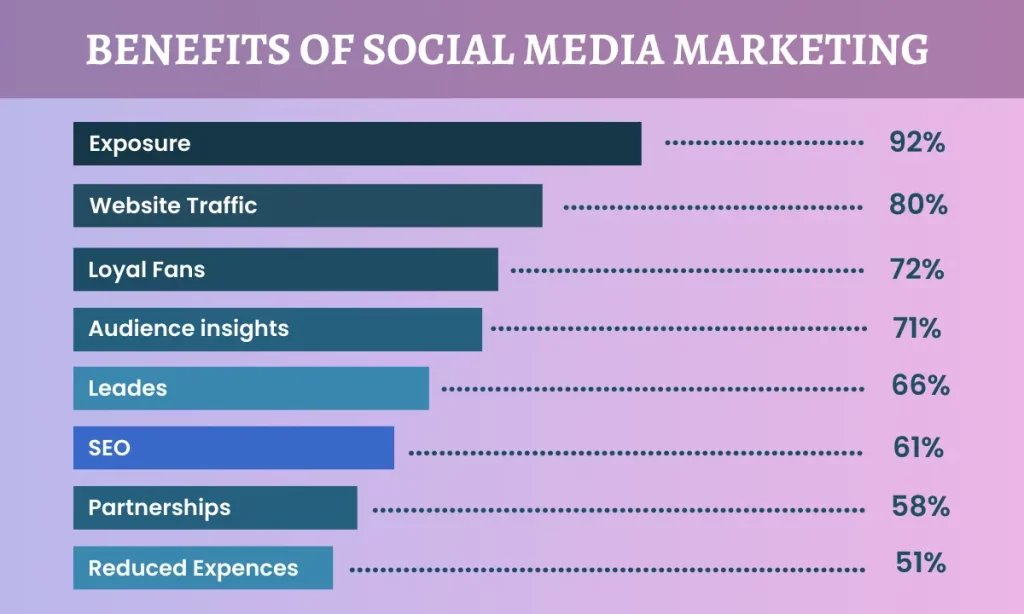 Here, we look at the various benefits that Social media marketing provides:
Digitize your company's personality
By using social media, you get a chance to showcase your best self online. Put the mission and vision of your company up front. Social media should be an actual representation of what your company is and what it stands for.
It would give your customers a vivid idea about your company, and they would want to authentically connect with your brand. Portraying your brand image with clarity attracts more potential users. Posting informative content increases your credibility by reflecting the actions of a thought leader leading your customers to trust you.
Advertising on social media is cost-effective. So, if you are planning to go for posting content organically, it technically would cost you nothing. Thus, social networking sites can be understood as one of the most-effective advertising mediums freely available to all businesses.
You can use social media platforms for your promotional activities to form an approachable persona by posting quality content that connects with your audience.
Drive traffic to business websites
Your social media presence has to be very effective to be able to drive back traffic to your main website from the Explore page. The advertisement links should redirect the customers to your website where further processes like filling out forms or making purchases can take place.
This strategy would also help you not lose out on potential customers to your competitors.
On the various social media platforms, you get to interact directly with your customers. Be it through Direct Messages (DMs) or, in the comments section, you can collect feedback, reply to questions, and clarify inquiries all at once.
These replies in the comments section would be publicly visible to others as well, giving them more insights into your business. Your real-time connection with customers and potential buyers would enrich their experience.
Types of Social Media for Business
You must select an appropriate social media platform for your business. Not all platforms may serve your purpose. Here, we provide a brief guide on the different platform options available to you, as a business owner.
Familiar names such as Facebook, Instagram, Tiktok, and Pinterest pop up in the category of social networking sites.
Social networking sites enable you to create your page and profile to handle independently. Here, an exchange of information takes place through images, short video clips, promotional bytes, etc. Your presence on social networking sites will gain you new followers and develop your brand image.
If you want to build a professional business profile, Job-Networking sites can be the perfect fit for you. You can use this site to network with skilled people from similar or different fields. These sites can also act as a platform for recruiting employees and further development in the organization.
One example of a job-networking site is LinkedIn.
Have you ever journaled as a kid or even as an adult? Blogs can be described as online journals, which are mainly educational or informative as we may term them. They are thought processes, observations, or simply promotional content the writer puts forward to the public for reading and learning purposes.
Readers of your blogs will be able to comment and share your posts. Interaction takes place. Blogs can be in-house, where you post your writings on your site or profile. Or it can be through a hosting site that acts as the blogging platform. Blogger and WordPress can be cited as examples of this social media platform.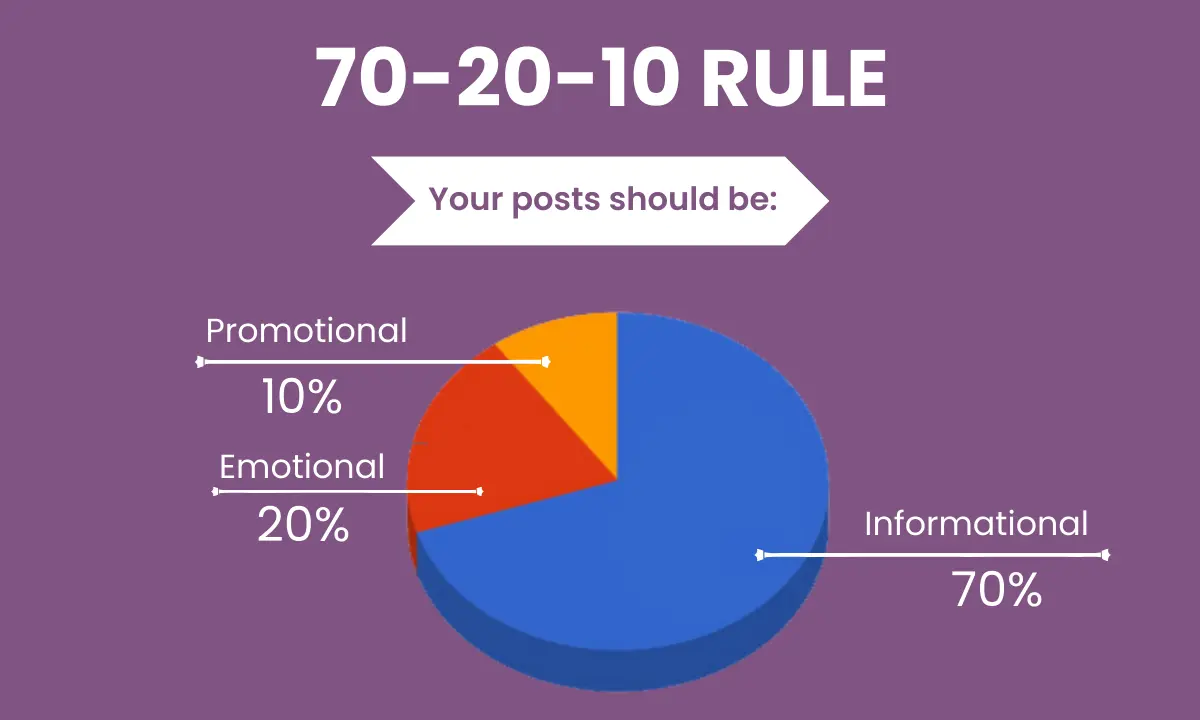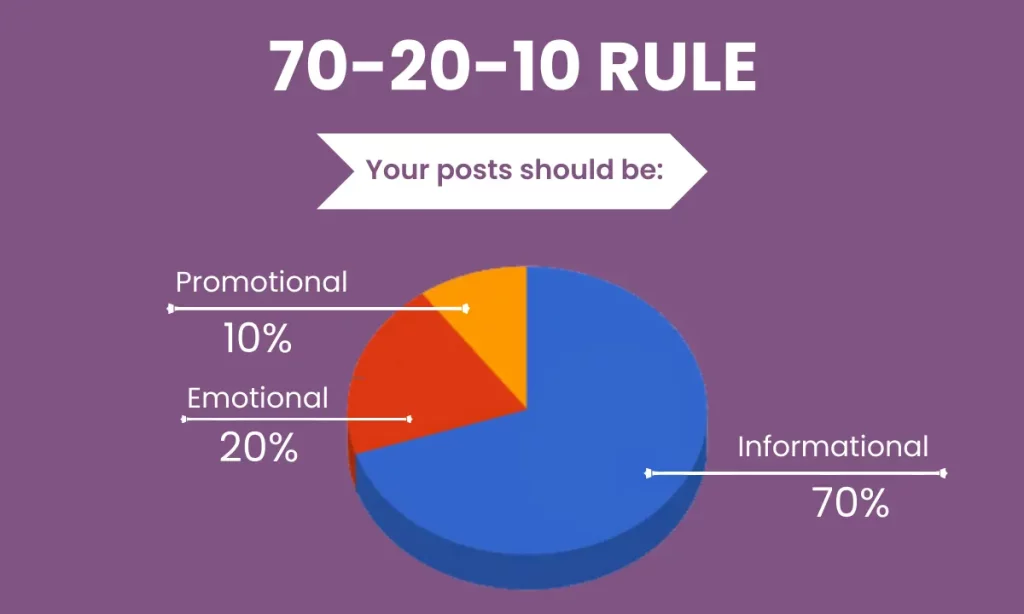 Podcasts can be pre-recorded or even live-streamed on various music-playing apps; like Spotify, and Gaana; or they can be pre-recorded too. Podcasts can be explained as blog-styled audio files that can be used to promote the business, giving out details, offers, applicability, and much more.
If the podcasts include video recordings it is called Vodcasts, which may be even more appealing. They can be posted on social media sites like Instagram, Facebook, and Youtube. Here you can collaborate with market leaders and market experts to make the conversations more wholesome while also plugging in your products in between.
Video-sharing platforms like YouTube and Vimeo allow you to upload and share your content in video format. Viewers can subscribe to your channel, comment on them, share, and like your videos. It would then generate more traffic to your site.
On top of that, you can earn substantial revenue from the platform by attaining the set subscribers' mark. Youtube in recent years has come up with Youtube Shorts where you can upload relatively "quick content" for viewers on the go. It would save your production expenditure along with time.
How to Market Online Business on Social Media
Social media marketing is quite easy when it comes to technicalities. You can support a robust online strategy within a limited budget along with your traditional marketing practices. Here, let us go through the steps on how to promote your online business on social media and how to connect with your users on social media.
1. Identify your audience
The first step of marketing your business online is identifying who you want to connect with, i.e., your target audience. Different platforms have users from different demographics. For instance, Instagram is a hub for youngsters and people of age groups till approximately 35. Whereas, Facebook is for 50+ people and Youtube is a platform unanimously preferred by all.
So, decide and understand who your market offerings serve and plan accordingly. Then, execution of the same would bring you the desired results.
2. Define your goals
Secondly, work on what you want to achieve, and what your business goals are. Well-defined specific short-term goals backed with the correct actions will bring you results.
Your goals should be S-M-A-R-T, i.e., Specific to what you want, Measurable to numbers or customer satisfaction, Achievable – within reach of your capabilities, Relevant to the day, age, and platform you are active on, and Timely to ensure efficiency.
3. Resource allocation
Third, for procuring the maximum benefits of social media marketing, branding expertise is of utmost importance. If you already possess skills like strategic thinking and sustainable marketing then you can simply invest in a few media marketing tools to boost your brand awareness and expand sales.
If you are someone new to this spectrum of online marketing and can access it, then you can hire an on-staff social media manager for your strategies to pay off.
4. Use multiple social media platforms
Fourth, do not stick to one single platform for executing all of your marketing strategies. Explore, understand, and prioritize.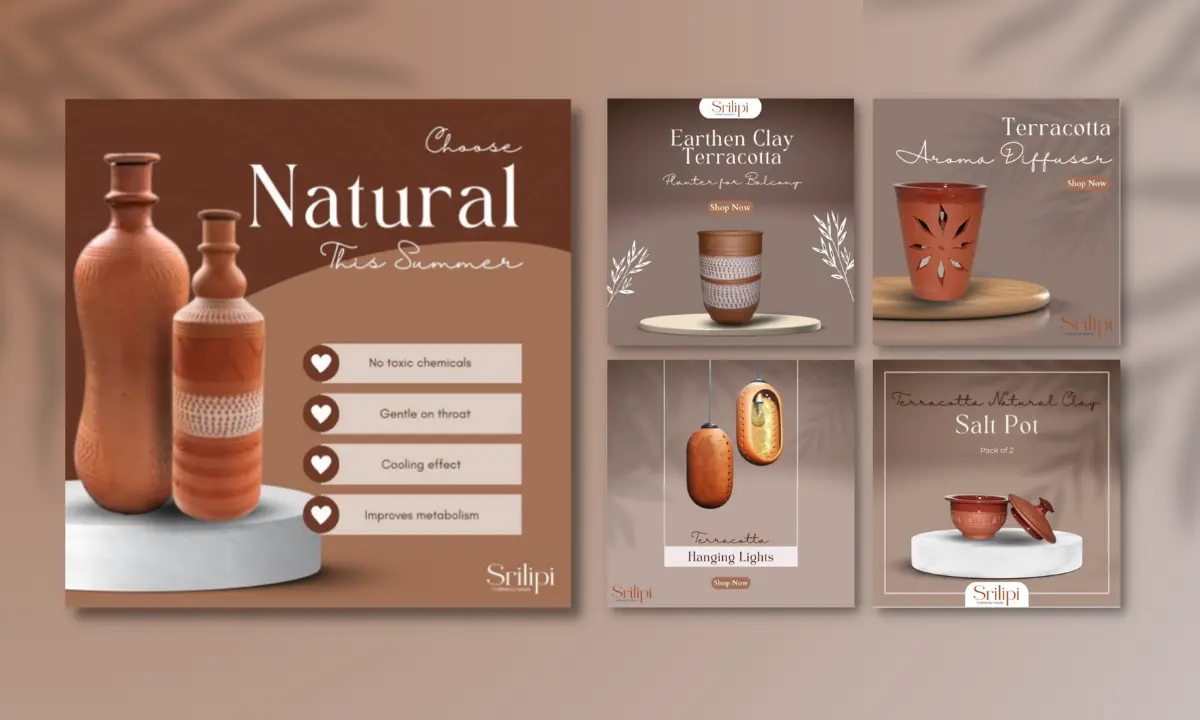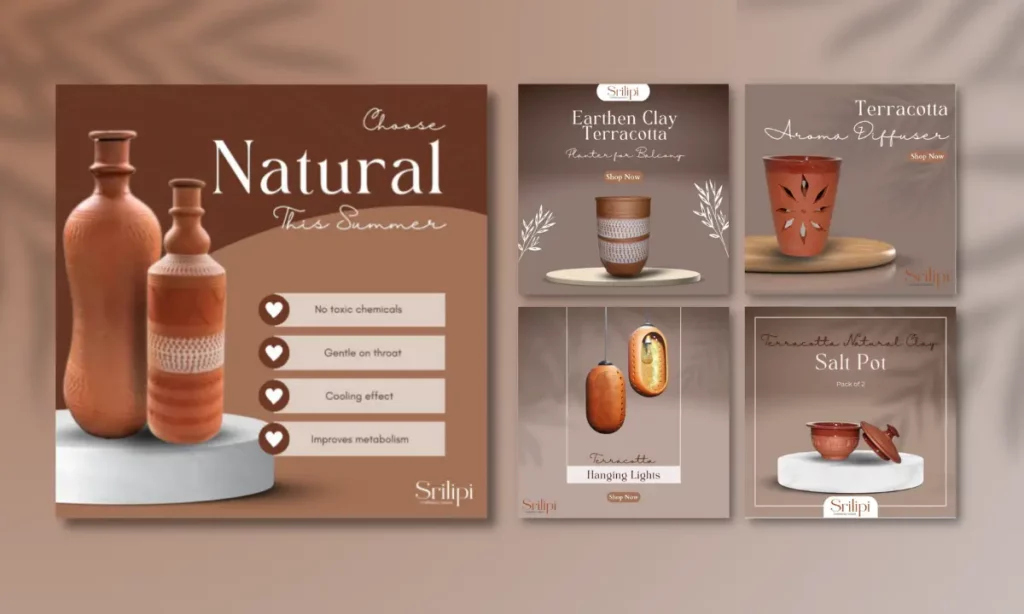 Use the concepts of:
Repurpose: You can splice up a blog post from your website and post them as a series of tweets on Twitter or as a carousel post on Instagram and LinkedIn as quick content.
Re-post: A great way to fill in the gaps or to cover up for creative blocks, is the method of reposting. Indulge in retweets, share old links in your stories and highlights, or simply repost previous content. This would be beneficial for your newer audience who have joined recently.
Recycle: Thinking of going live with your products on Facebook? Record the live and share it on your Youtube channel. It would catch the attention of a newer segment of customers and also of customers who missed the live session. You could also post Instagram reels as YouTube shorts and vice versa.
So, you see the possibilities are endless and they are as easy as it sounds.
5. Develop a unique strategy
Lastly, choose strategies according to your target audience, exclusive to your platforms. You can take insights from other businesses and their workings. But at the end of the day, you must create your own identity very specific to your needs, demands, and requirements.
Put your authentic self forward and carve out your niche for better prospects in the future as your business grows.
Social Media Tips for Online Businesses
Let us look at some social media marketing tips for your e-business.
Determine your success by tracking data of the various social media marketing tools that you have been using. Having insights into the workings of your strategies, if they are working in your favor at all or not, or how advantageous they are for your business growth is very important.
Google Analytics can also be used to measure your performance. Using tracking tags and analytics would give you an insight into which piece of your content the audience relates to.
Using social media techniques you can portray your brand image across varied networking platforms. You should be at the top of your game to hold on to the group of interested people who showed interest in your products/brand. As a marketing strategist, you can come up with attractive engaging content on a very regular basis.
For the maximum benefits, you can use the analytics of when your audience is the most active online, then choose those timings for posting your content. This would lead to greater visibility and ensure maximum engagement of your content.
Connect with your audience
Social media sites can also be viewed as a global community where people from different backgrounds, and different intentions come together to help each other out. You can connect to your audience by responding to comments, reposting tagged content, liking, sharing, and following their posts.
You can come live on different platforms, take up live questions, bring a guest to spark discussions and address key areas of your business, and plugin other content through them.
Best Social Media Platform for Online Business
Some of the best social media platforms appropriate for online business include Facebook, Instagram, Youtube, Twitter, and LinkedIn. All of these sites have different functionality and approaches.
Let's get an overview of the platforms on some vital criteria.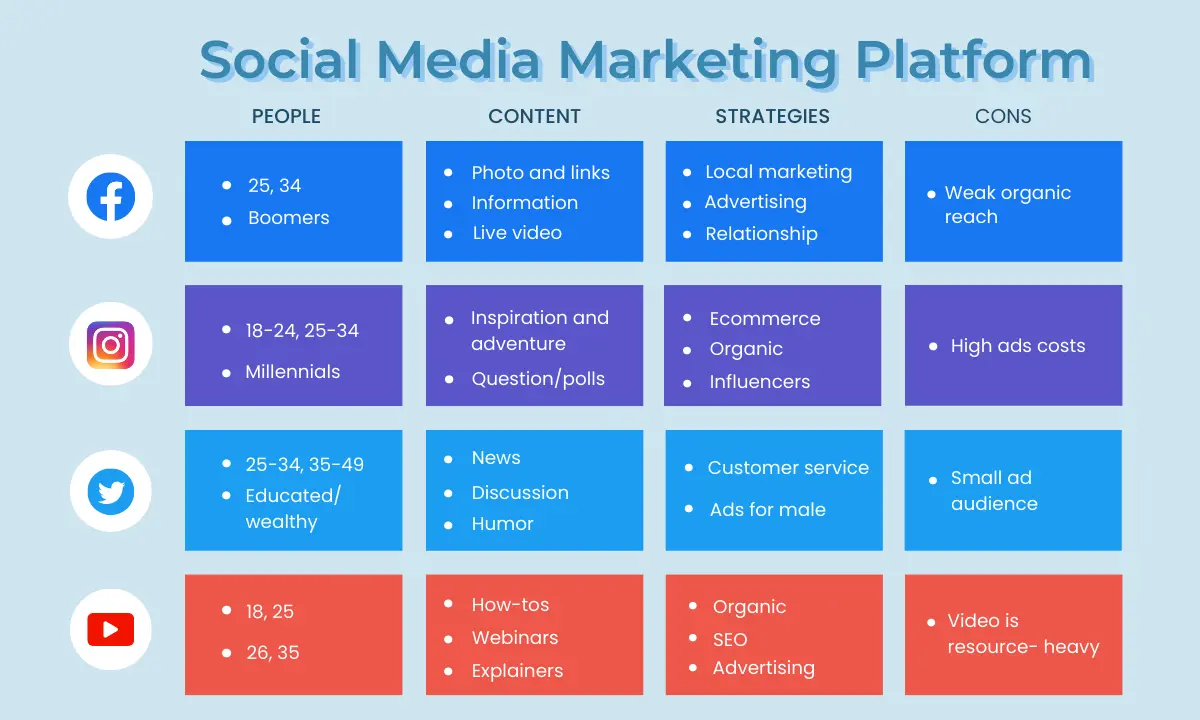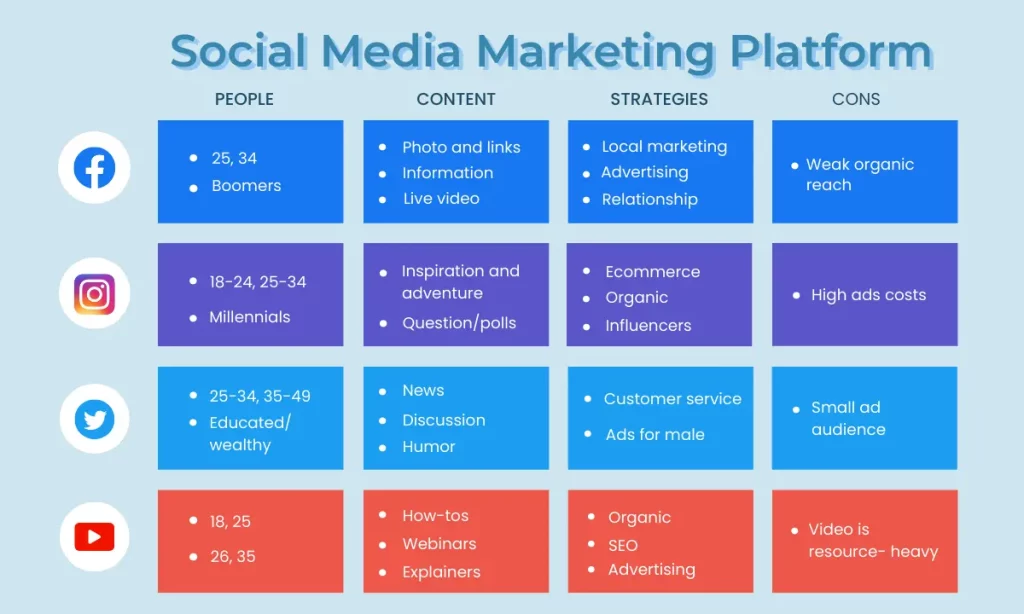 Findings
Social Media marketing would surely make you stand out. You can advertise your products in various ways – by integrating with other brands, collaborating with social media influencers and celebrities to gain massive reach, etc. A social media platform would just enhance your efforts of going big and take you to the next big step.
I hope you have found this blog informative. Then, what are you waiting for? Get ready for the fun ride awaiting you to explore social media and expand your business with a few easy steps.
Connect with Unizap and access their 360-degree marketing strategy which offers a wide range of marketing services like Social Media Marketing, Brand and Performance Marketing, and Creative and Content Marketing. Their expert team will provide expert advice, help you start targeted ads, and provide various social media management tools to schedule posts and update them on time.
FAQs
To ensure persistent social media growth, you have to be very consistent with your content on social media platforms. It creates a certain type of algorithm that brings in more views leading to greater exposure. Post quality content that engages the viewers. You can add short gifs, trending memes, short videos, and HD-quality pictures to make the content attractive.
Social media influencers enjoy an established social media presence with a sufficient following. Once your brand collaborates with them or they integrate themselves with the brand and its products, their followers also get added to your social media platform. This way, you would reach a greater customer base in less time.
Social Media marketing tool is like any other kind of marketing strategy that a business is likely to adopt to advertise and promote its products and services. A minimum expenditure on content creation, and onboarding social media influencers or celebrities will be necessary. You have to monitor the conversion rates, engagement rates, and ROI regularly to direct and redirect the strategies for effective growth.