Ever since the COVID-19 pandemic, the world has seen a massive surge in online shopping and e-commerce activity. With lockdowns and social distancing being in operation, businesses had to invest in digital tools and shift to the online marketplace to keep surviving. Some businesses that adapted quickly kept thriving while others couldn't sizzle out. With the rise of e-commerce platforms and social media marketing, it's easier than ever to start and grow a successful online business now.
In this blog, we'll explore various aspects of online business, including strategies for building an effective online presence, tips for driving traffic to your website, and techniques for converting visitors into paying customers. We'll also delve into topics such as branding, customer service, and the latest trends in online marketing.
Take your business online with Unizap. Get your free online store in 30 seconds.
Whether you're just starting in the world of online business or you're looking to take your existing business to the next level, this blog will provide you with the insights and resources you need to succeed. So take a seat back, unwind, and let's explore the fascinating world of internet commerce together!
Why should you take your online business online?
Before we start with the step-by-step guide, let us understand why would you even need to take your small business online. Is there any benefit in doing so or any harm in not doing so? Let's look at a few relevant reasons.
Much Bigger Market – The internet provides access to a vast global market, which means that you can reach potential customers who may not be able to visit your physical location.
Better Customer Support – With the ability to communicate with customers online, you can provide better customer service and respond to inquiries promptly.
24/7 Availability – By being available around the clock, customers have the convenience of shopping at any time. Customers can purchase goods or services from online retailers at any hour of the day or night. This can increase earnings and sales.
Improved Company Image – A website can help to establish your brand and give you a professional online presence. Social media and email marketing can also be used to increase brand visibility.
Low Operating Costs – Advertising online can be more affordable than traditional methods such as print ads, TV commercials, and billboards. Also, building a website can be more affordable than leasing or purchasing a physical location.
Feasibility to Operate From Anywhere – Online shopping is convenient for customers, as they can browse and buy products or services from the comfort of their own homes at any time of day.
Increased Sales- Customers can make purchases at any time from an online store, which can improve revenue. Additionally, online marketing can help to drive traffic to your website and increase sales even further.
Thus, moving a firm online might have several benefits. Reaching a larger audience, including clients outside of the company's immediate vicinity, is one of the biggest advantages. Increased brand recognition, sales, and money may result from this. Online businesses also have lower overhead costs compared to brick-and-mortar stores, as they do not require physical storefronts or as many employees. This can lead to higher profit margins and a more efficient business model. Additionally, because they may operate around the clock, internet businesses give customers the convenience of being able to make purchases or access services whenever they choose. Businesses can also obtain insightful information about consumer behaviour online, which they can utilise to enhance their marketing plans and better serve their clients' requirements. Overall, going online can offer businesses many advantages that can help them thrive in today's digital landscape.
What is required to launch your business online?
A fantastic strategy to expand your market and reach is to move your company online. That can be a difficult task, though, as there is much stuff to think about. Here are the necessary details to make it simpler you need to take to get your business up and running on a website.
Selecting the appropriate platform for your website, establishing payment methods, and advertising your products or services online – these steps will help you get started on the right foot. With the appropriate tactics and direction, you and direction, you may benefit from everything the digital world has to offer and grow your business faster than ever before.
Step 1: Define Your Online Strategy
Identify your target audience
The first thing you need to do is figure out who exactly your customers are and where they're located. Understanding your target audience can help you tailor your products, messaging, and marketing efforts to appeal to them, leading to higher engagement, conversion rates, and customer loyalty. This can be done through surveys, analytics, and market research.
Research your competition
By identifying your competitors' strengths and weaknesses, you can learn from their successes and avoid their mistakes. You can also gain insights into the market and consumer behaviour by analyzing their marketing strategies, product offerings, and customer engagement. This research can help you identify gaps in the market that your business can fill or help you differentiate your offerings from competitors.
Define your unique selling proposition
A USP is a statement that describes what sets your business apart from others in the market. It should be a clear and concise message that communicates your business's value to your target audience. Defining your USP helps you differentiate your business from competitors and highlights the benefits that customers can expect from your products or services.
Determine your online goals
Identify your online goals and develop a strategy to achieve them. This can involve creating a website, developing social media profiles, or investing in online advertising. Having a clear understanding of what you want to achieve will increase your chances of success and help you build a strong and sustainable online presence.
Step 2: Create Your Website
Choose a domain name and hosting provider
Your domain name is essentially your website's address, so it should be unique, easy to remember, and related to your business. When selecting a hosting provider, consider factors such as uptime reliability, server speed, customer support, and pricing. You should also consider security features to protect your website and customer data.
Select an eCommerce Website Builder
An eCommerce website builder is a software tool that allows individuals or businesses to create an online store and sell products or services over the Internet. It provides all the necessary features and tools to create an eCommerce website, including templates, design tools, and shopping cart functionality.
A good eCommerce website builder makes it easy to create an online store, process payments securely, fulfil orders, and drive traffic to your site. It should also offer a range of features to help you manage your store, including inventory management, shipping and tax calculators, analytics, and customer support tools.
One of the biggest challenges for most businesses going online is choosing the right eCommerce Website Builder when creating a website for your online business. Some popular CMS options include Shopify, Unizap, BigCommerce, WooCommerce and Ecwid each with its strengths and weaknesses. Here are some of the eCommerce website builders that you can use to create your website and take your business online.
1. Shopify
| | |
| --- | --- |
| Pros | Cons |
| Easy-to-use, user-friendly solution | Relatively costlier than others |
| Customizable design and a variety of themes | Dependency on Shopify Developers for customisations and integrations |
| Offers a large number of third-party app integrations | Limited customer support, available only on chat and email. |
| Built-in promotion and marketing tools | Difficult to export all your data and migrate it to a new platform |
Pricing: Shopify offers a free trial of 14 days and you can extend your free trial for an additional 3 months for ₹20 INR/month.
Basic: ₹1,994/mo
Shopify: ₹7,447/mo
Advanced: ₹30,164/mo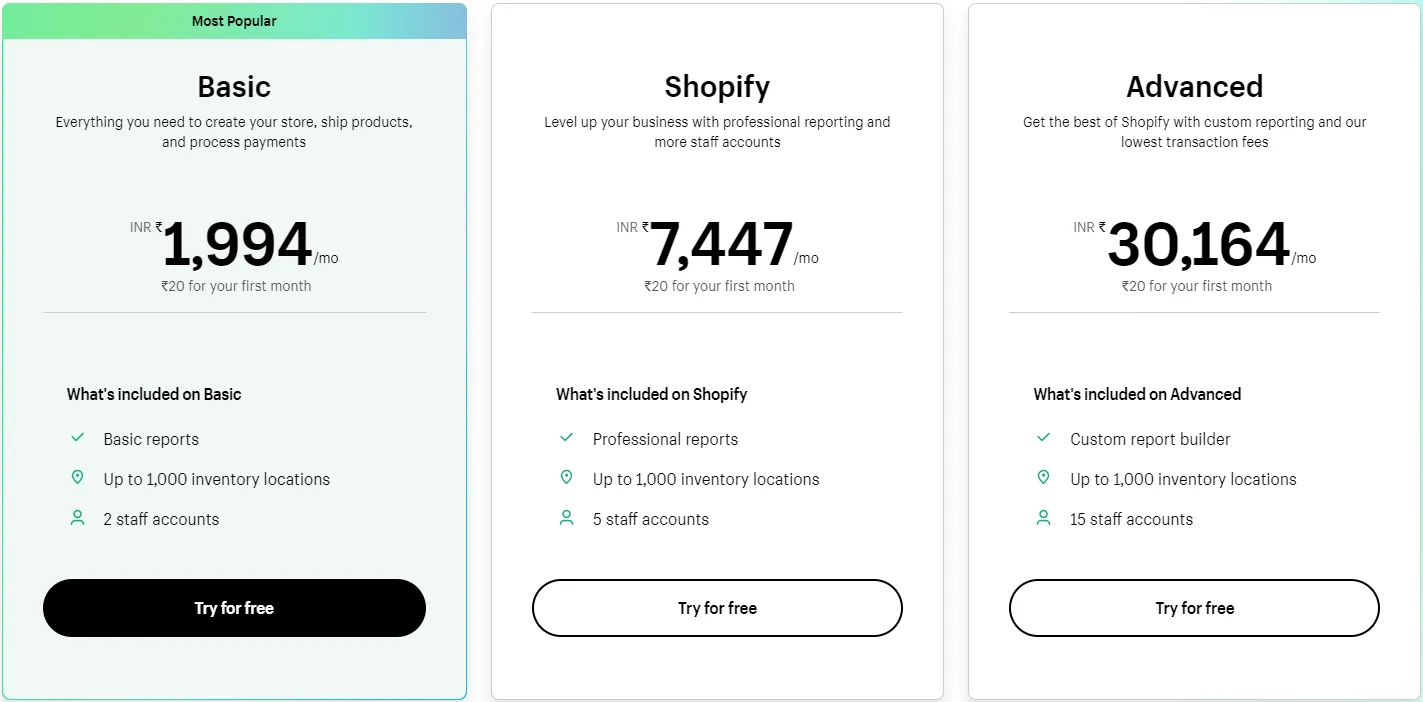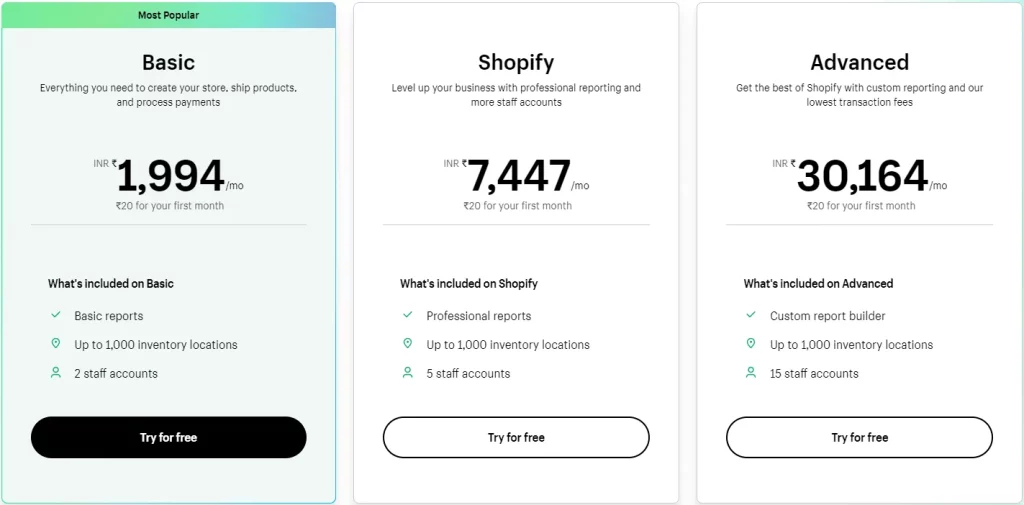 2. Unizap
| | |
| --- | --- |
| Pros | Cons |
| Variety of highly customisable themes for a professional-looking website | Global shipping is not yet available |
| Exhaustive features that suit all types of businesses | Does not support vernacular language yet |
| 24/7 customer support on call, email and in-app | Does not facilitate selling in multiple currencies yet. |
| Extensive integration capability to any third-party platform | |
Other than this Unizap has many other unique advanced features that you can check out here. 
Pricing: Unizap offers a fully free community pack which has all the basic needs for a new online business.
Starter: ₹2999/Quarterly
Expert: ₹7599/Quarterly
Professional: ₹29999/Quarterly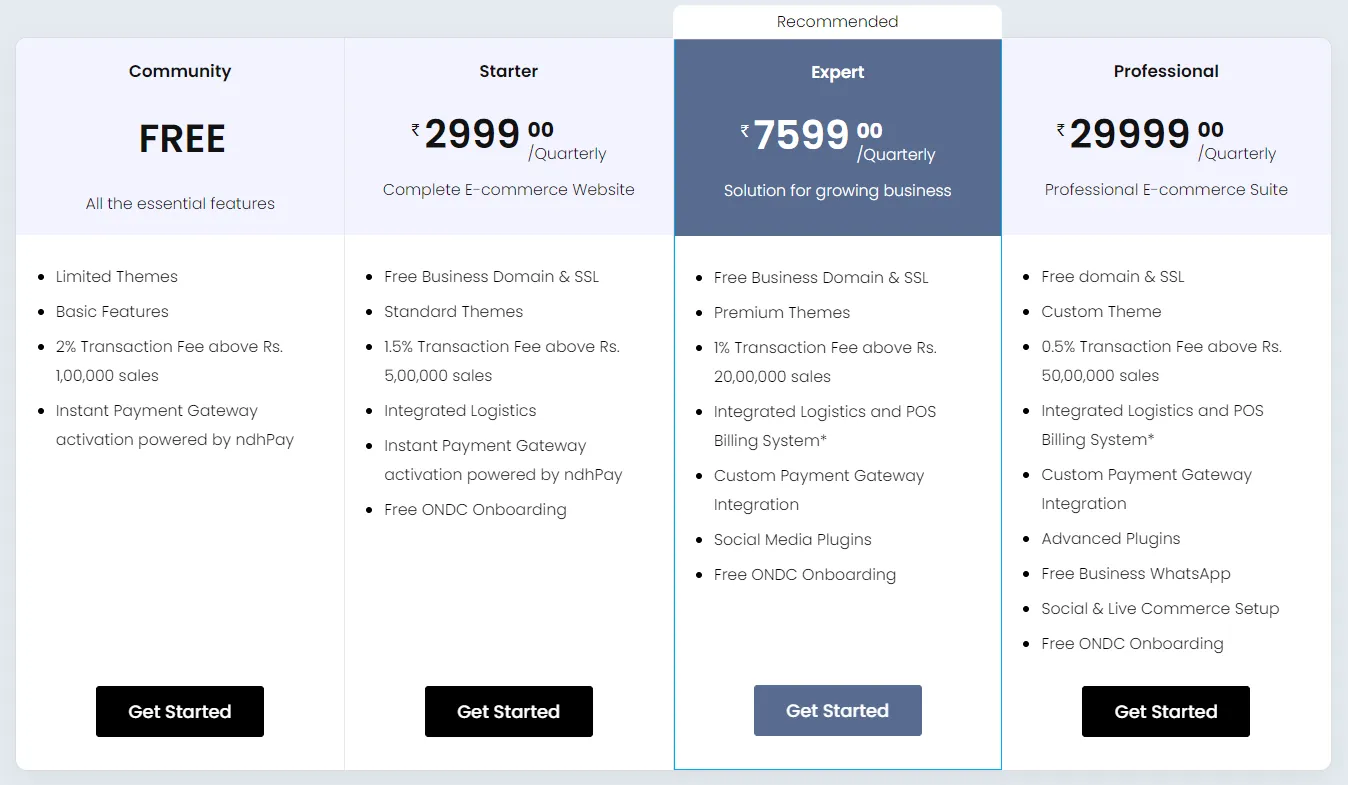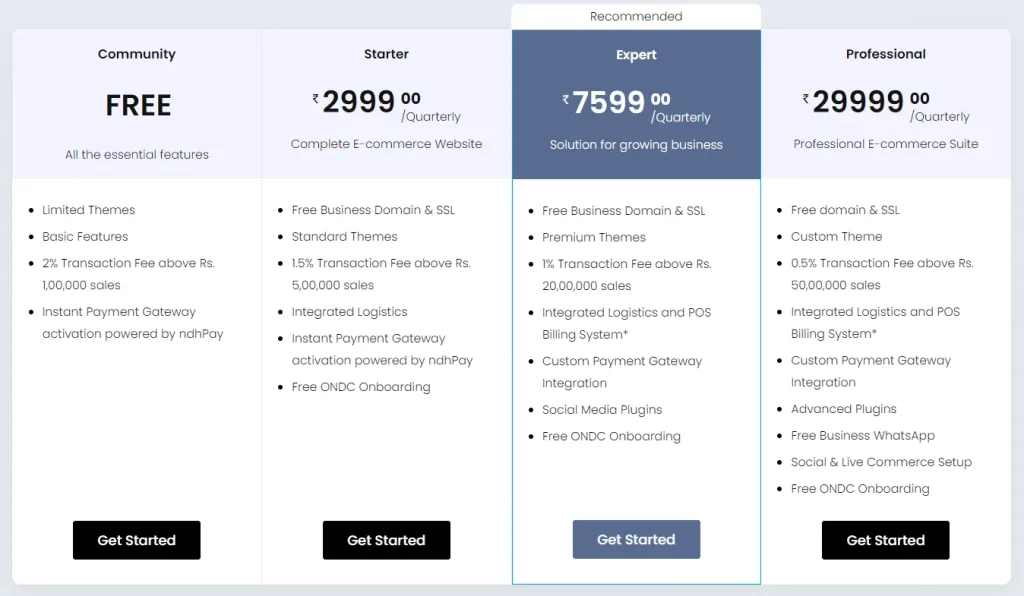 3. BigCommerce
| | |
| --- | --- |
| Pros | Cons |
| Scalable solution, suited for both small and big businesses | Relatively expensive compared to other eCommerce platforms |
| Strong in-SEO support | App Dependency on third-party apps |
| Comprehensive and user-friendly features | It can take some time to learn all of the features and capabilities of BigCommerce |
| Suitable for selling on multiple channels. | Plans include an annual sales threshold, beyond which you will be upgraded to a higher plan. |
Pricing: All of the plans come with a 15-day free trial, so you can try out the platform before committing to a paid plan.
Standard Plan: $29.95 per month
Plus Plan: $79.95 per month
Pro Plan: $299.95 per month
Enterprise Plan: The Enterprise plan is designed for large businesses with high-volume sales and custom requirements. Pricing for the Enterprise plan is custom, and you will need to contact BigCommerce directly to get a quote.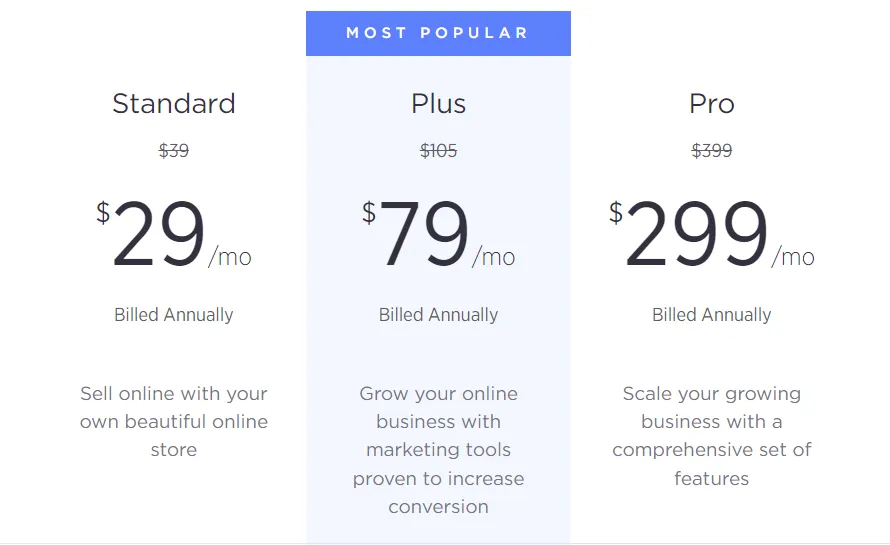 4. WooCommerce
| | |
| --- | --- |
| Pros | Cons |
| Open source so you can modify the source code | Technical expertise required for customisations |
| Large user community providing support, plugins, and extensions | Customer support is limited to the Woocommerce community |
| Scalable, it can grow with a business as its needs and customer base expands | Hosting and security are on the businesses themselves |
| Cost-effective for small businesses | Requires a WordPress website |
Pricing: WooCommerce is a free and open-source e-commerce plugin for WordPress. But WordPress hosting may take $120 per year on average. A Domain name is around $10 – $20 per year. Everything else's cost such as payment gateways and other integrations can vary depending on the developer and features included. It can range from a few tens of dollars to hundreds of dollars.
5.Ecwid
| | |
| --- | --- |
| Pros | Cons |
| Easy to use | Limited customer support |
| Multi-channel selling | Limited design customization |
| Mobile responsive | Limited features compared to others |
| PCI DSS compliant, it meets the industry's highest security standards. | Limitation on the number of product that can be added in each plan |
Pricing: There's a Free plan that allows you to list up to 10 products and sell them through various channels, including social media and your website.
Venture: ₹ 889/ mo
Business: ₹ 1649/ mo
Unlimited: ₹ 4990/ mo
Source: https://www.ecwid.com/in/pricing
Design and develop your website
Your website should have a pleasing user experience, be appealing to the eyes, and be search engine optimized. You should consider what your brand identity and target audience are when designing your website, and create a layout that works on all devices. Make sure it's quick and is easily navigated through, and has relevant keywords and meta descriptions. You can hire experienced developers and designers to create a website that meets your business needs and effectively communicates your brand message to your audience.
Test and launch your website
Testing and launching a website is the final step in creating an online business. It is important to test it thoroughly to ensure it functions correctly and provides a positive user experience. You can also ask friends or colleagues to provide feedback. Once it has been tested and tried and also any issues have been removed, it is time to launch it.
Step 3: Make Your Webpage Search Engine Friendly
Keyword research is an important tool for businesses to determine which keywords are most relevant to their business. There are several different methods to conduct keyword research, such as using a keyword research tool such as Google AdWords Keyword Planner. Another method is to brainstorm a list of keywords that you think would be relevant to your business. Keyword analysis tools can be used to further refine the list.
Optimize your website's structure and content
Once you have determined the most relevant keywords, you can begin optimizing your website for these keywords, such as incorporating them into your website content, Meta tags, and title tags. This will help to attract more targeted traffic and improve your chances of success with your online business.
Create high-quality backlinks
Creating high-quality backlinks is an important part of SEO and can help improve your website's search engine rankings. Backlinks may be obtained quite easily by guest posting. Broken link building involves finding broken links on other websites and suggesting your content as a replacement. Creating high-quality infographics can attract backlinks from other websites. Sharing content on social media and engaging with your audience can increase visibility. Internal linking involves linking to other pages on your website to improve navigation and user experience.
Step 4: Create Engaging Content
Develop a content strategy
Your business goals and objectives should serve as the foundation of your content strategy. Creating quality content takes time and effort, but it is worth it if it helps you reach your business goals. Developing a clear and concise content strategy from the outset will save time and ensure that all of your content is working towards achieving your goals. Consistency is key when it comes to online business success, so make sure to regularly publish new and interesting content and promote it.
Write high-quality blog posts, product descriptions, and landing pages
Writing high-quality content is essential for engaging your audience and driving conversions. Research your topic thoroughly, use reputable sources, identify your target audience, use language and terminology that resonates with them, create a clear structure, write headlines that are clear, concise, and attention-grabbing, use strong verbs and numbers, and use visuals such as images, infographics, and videos that are relevant to your content.
Create captivating photos and videos
High-quality images and videos of your product or services encourage faster conversion. Visually appealing and engaging content on your website and social media makes customers feel interested and believe in the quality. Videos keep the interest of the customer to see it in real-time and make a product more reliable.
Promote your content on social media
Promote your business, products or services on your social media handles or any other digital channels you have and post content regularly to make sure it reaches the maximum number of customers who would be willing to check out your business. You can also hold giveaways, coupon competitions, etc to attract more people.
Step 5: Email Marketing to Drive Sales
An email list will allow you to stay in touch with your customers and prospects, and it's a great way to build a relationship with them. Use social media to promote your newsletter and encourage people to sign up. Email campaigns and newsletter help build customer loyalty since it helps the business build a relationship with that customer.
Create engaging email campaigns
Create engaging email campaigns to build a strong relationship with subscribers and increase email open and click-through rates. Segment your email list based on interests, demographics, and behaviour to personalize content. Use a subscriber's first name and tailor content based on their interests or behaviour to make them feel valued and increase engagement. Make sure your email content is relevant, personalized, and visually appealing to increase engagement and drive business growth.
Use automation to streamline your email marketing
Automation in email marketing can help streamline campaigns and save time while still delivering personalized and engaging content to subscribers. It can be used to set up automated emails such as welcome series, abandoned cart reminders, and specific events such as birthdays or milestones. It can also be used to track and analyze email campaign performance to make data-driven decisions to optimize campaigns and improve results.
Step 6: Advertise Online
Use pay-per-click (PPC) advertising
Pay-per-click (PPC) advertising is a popular and effective way to drive traffic to online businesses by placing ads on search engine results pages, social media platforms, and other websites. Choose the platform that aligns with your goals and target audience, including Google Ads, Bing Ads, Facebook Ads, and LinkedIn Ads and use keyword research tools to find relevant keywords, and create ad copy that matches what people are searching for. Add a prominent call to action (CTA).
Running social media ads is a powerful way to promote your online business and reach a wider audience. Different platforms have different strengths and weaknesses, so it is important to consider which platforms are most relevant to your audience and business goals. Monitor your campaigns and make adjustments as needed. Use the data from your ad campaigns to track performance, optimize targeting and messaging, and refine your ads over time.
Display advertising is a form of digital advertising that involves placing ads in front of target audiences on websites, social media platforms, or other digital channels. Many different advertising platforms offer display advertising, such as Google Ads, Facebook Ads, and Twitter Ads. Choose a platform that is compatible with the targets of your business. To reach the audience you want to reach, use the targeting tools offered by the platform you have selected. This may include targeting users based on demographics, interests, or behaviours.
Step 7: Measure and evaluate your outcomes
To monitor the effectiveness of your website, use Google Analytics.
Google Analytics is a powerful tool that can help you track your website's performance and gain valuable insights into your online business. To use it, you need to add the Google Analytics tracking code to your website. With the help of goals, you can keep track of particular activities that website users perform, making a purchase or submitting a contact form. Once you have access to data, you can use it to make informed decisions. Key metrics to track include traffic sources, user behaviour and conversions.
Measure the success of your email marketing campaigns
Use the email marketing platform's tracking tools to monitor email metrics such as open rates, click-through rates, bounce rates, and unsubscribe rates. Track conversions from campaigns by using conversion tracking tools or by monitoring sales and leads generated. Conduct A/B testing to compare different variables to identify which variables are more effective and optimize future campaigns. Use the insights gained from analyzing email metrics to refine your email marketing strategy and adjust the content, send times, or targeting to optimize results.
Track the ROI of your advertising efforts
Tracking the return on investment (ROI) of your advertising efforts is essential for understanding the effectiveness of your marketing campaigns and making informed decisions about how to allocate resources. To track ROI, you'll need to set up tracking for each of your advertising campaigns. This might include using tracking URLs, setting up conversion tracking, or using tracking pixels. To calculate ROI, you need to know the total cost of your advertising campaigns, as well as the total revenue generated by them. This will help you in the future before making campaigns.
In conclusion, taking your business online can be a daunting task, but it is also an essential one in today's digital age. With the right tools and strategies, you can create a strong online presence and reach a wider audience than ever before. By following the steps outlined in this blog, including choosing the right eCommerce platform, optimizing your website for search engines, and leveraging social media and other digital marketing channels, you can take your business to the next level and achieve your goals. Whether you're just starting or looking to expand your existing business, now is the time to embrace the power of the internet and take your business online.
Take your business to the next level with Unizap today!
Are you looking to build an e-commerce platform or upgrade your current setup? Unizap is widely recognized as one of the best in the industry, thanks to our exceptional and comprehensive features that are tailored to meet the unique needs of businesses. 
With Unizap, you can sell directly to customers, drive sales, and process deliveries and payments without any coding knowledge. Our platform is designed to make it easy for you to get your online business up and running in just a few minutes.
We provide a wide range of world-class themes that are designed to give your website a professional look and feel. We also offer a range of features, including integrated payment and delivery solutions, marketing tools, inventory management, order management, and more, to help streamline your business operations. If you want to learn more about all the features of Unizap, click here.
Frequently Asked Questions (FAQs)
Depending on the size and requirements of the business, it can vary vastly. To shift a large business from offline to online you might need to spend money on plans and if it is a small business, you can even start for free. The cost of the move depends on several variables, including hosting and website development, security, delivery, online payment integration, customer support, marketing tools, and more. With ndhgo, you can even start a completely free store for a small business and level up as it grows.
There are several ways you can attract customers to your online business. For online businesses, boosting traffic to the online store or website is the way to increase customers. Below are some of the methods to boost traffic to your online store or website.
Effective search engine optimisation for your store and blogs

Organic social media marketing on various relevant digital channels 

Email marketing

Blogs and video content marketing

Online groups and professional forums
Depending on country to country or state to state, it may vary. But in general, there are certain legal requirements all businesses need to fulfil like registering your business with the relevant government authorities. This might entail adopting a legal structure, registering for taxes, and acquiring a company licence, registering for a trademark on your business name, logo and products or services. There are others like payment gateways, consumer protection laws, privacy policies and terms of service. It is best to fully research the laws and requirements for the hassle-free functioning of your business.