Are you confused about why your eCommerce website isn't doing as well as you expected? Are your customers expressing dissatisfaction with your website?
Well, this blog will hopefully help you realize some of the mistakes or essential website features you might have missed. In the current digital age, where it has become almost necessary for businesses to go online, it has now also become more challenging for businesses to stand out and attract customers.
That's why it's essential to have an eCommerce website that is user-friendly, visually appealing, and offers an exceptional user experience. In this blog, we will discuss the top 7 must-have eCommerce website features that will help you build an online store that attracts and retains customers.
We'll go through all the key components that will help you build an eCommerce website that stands out from the competition, from simple navigation to safe payment choices.
Let's get going and investigate the fundamental components of a successful eCommerce website.
What do your customers expect from you?
Before we start with the 7 essential e-commerce features, it's important to know what we are basing this on. We need to know what customers expect from you, an eCommerce store when they click on your website.
Most customers nowadays are busy and don't have enough patience to wait around since there are competitors who can do better. Customers want a simple and enjoyable purchasing experience when they go to an e-commerce website.
They want to be able to swiftly and simply locate what they're searching for and make their purchase with the least hassle.
Customers have specific expectations for an e-commerce website, some of which are as follows:
They want to be able to easily navigate the website and search, with clear categories and intuitive menus.
They expect pages to load quickly and smoothly to save time because if it's too slow they will quickly move on.
They will want to find a reliable brand, one which provides accurate productions and also shows verified reviews of customers.
Whether it's a credit card, PayPal, or another payment option, customers want to be able to pay using their chosen way.
They anticipate that e-commerce websites would be safe and secure, protecting their personal and financial data.
They want to be able to quickly call customer service in the event of a problem and receive assistance.
A lot of customers check whether there's an easy return policy or not before purchasing anything, in case they are not satisfied.
Overall, customers expect an e-commerce website to be convenient, easy to use, and secure, with high-quality products and reliable customer support.
What are the 7 must-have eCommerce website features?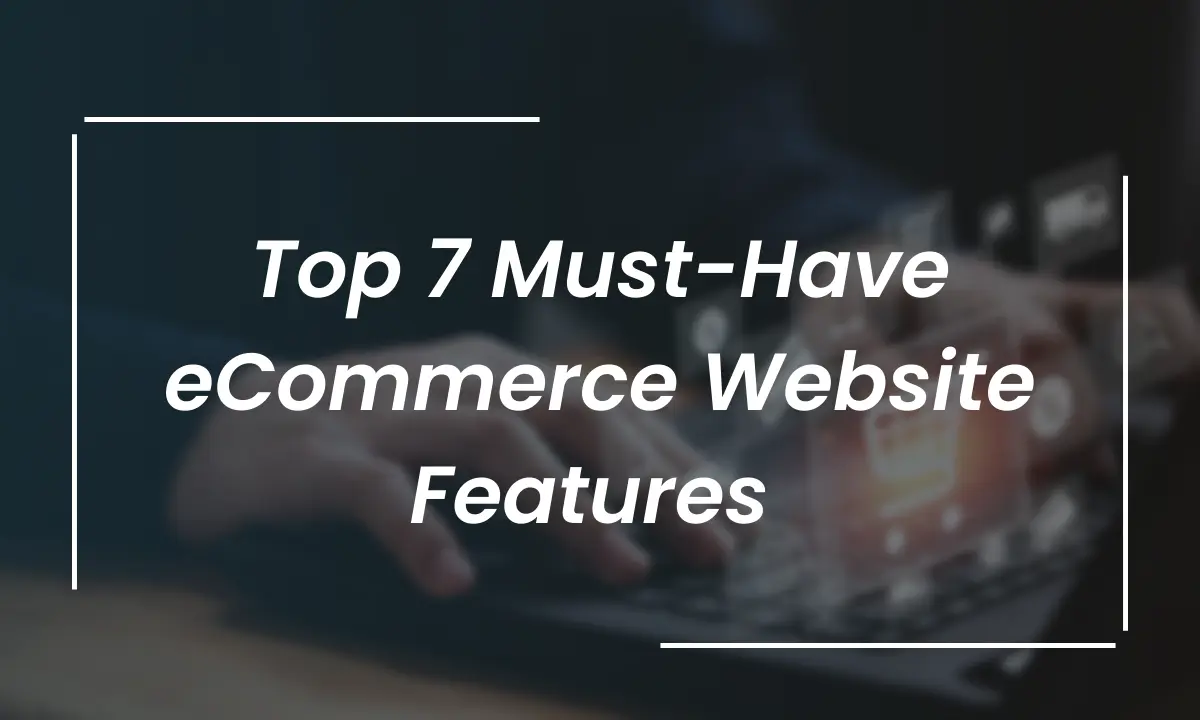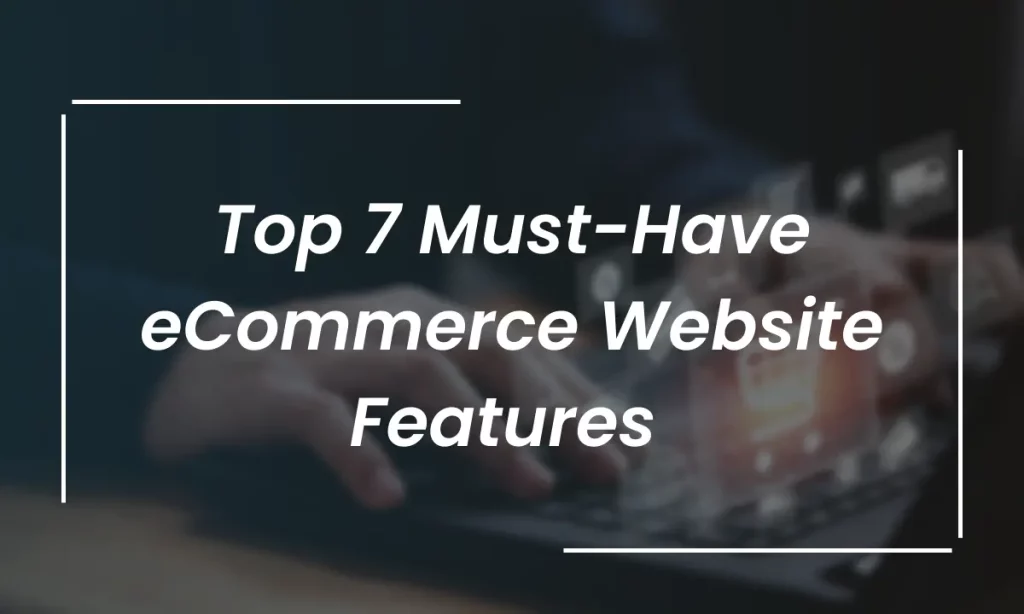 Now let us move to the 7 essential eCommerce website features:
Easy & User-friendly Navigation
A search box makes it easier for users to search for what they want, quickly and smoothly, improving the user experience. If users cannot locate what they are looking for in a short period, they will most likely abandon the website.
Users can quickly find what they need, using the search box, which also increases their chances of conversion. Also keeping track of what is being searched, you can find what is popular and trending among customers, providing valuable insights.
A clear, well-organized menu
Customers can easily find what they're looking for on an e-commerce website owing to a neat, well-organized menu. They may quickly explore the website, find the items they are interested in, and complete their transactions accordingly. By being able to locate what they're looking for, users can improve their shopping experience.
A well-structured menu also presents a clearly defined brand image, which raises the prospect of them completing their transactions. A neat, well-organized menu enhances the website's SEO since it helps search engines understand the content of a website and its position in search results.
A filtering system based on various criteria
E-commerce websites can use a filtering mechanism to help users quickly select products based on relevant criteria like price, brand, size, color, and other attributes.
This can lead to higher website revenue and sales, as customers are less likely to order things that don't meet their expectations and must be returned. The filtering system also makes it easier to track user preferences and behaviors, which can be used to improve the website's search functionality.
Mobile Friendly Features
Your website will be easily accessible and functional on all devices, including desktops, laptops, tablets, and smartphones, thanks to responsive design. Revenue and sales can be increased by enhancing the user experience and lowering bounce rates.
You may reach more people by making your e-commerce website mobile-friendly. Given that an increasing number of individuals purchase online on their mobiles, this is particularly important for mobile users. According to Google, responsive design is their preferred approach for optimizing websites. You may boost your e-commerce website's search engine rankings and increase traffic by utilizing responsive design.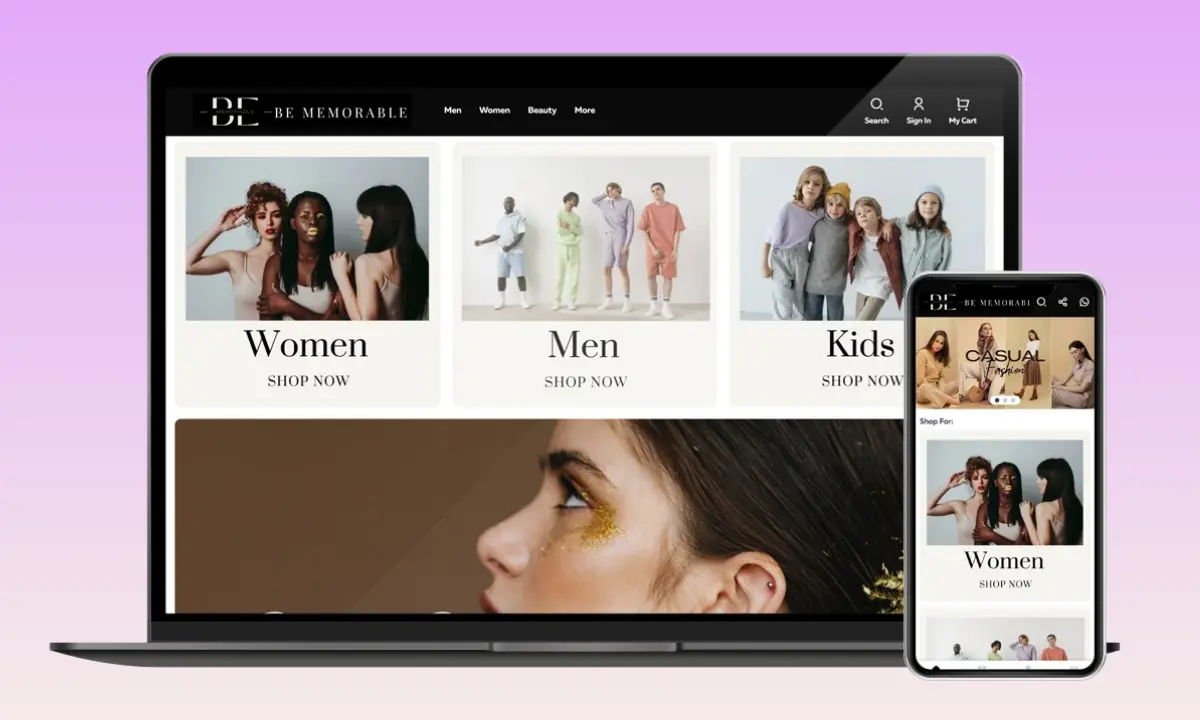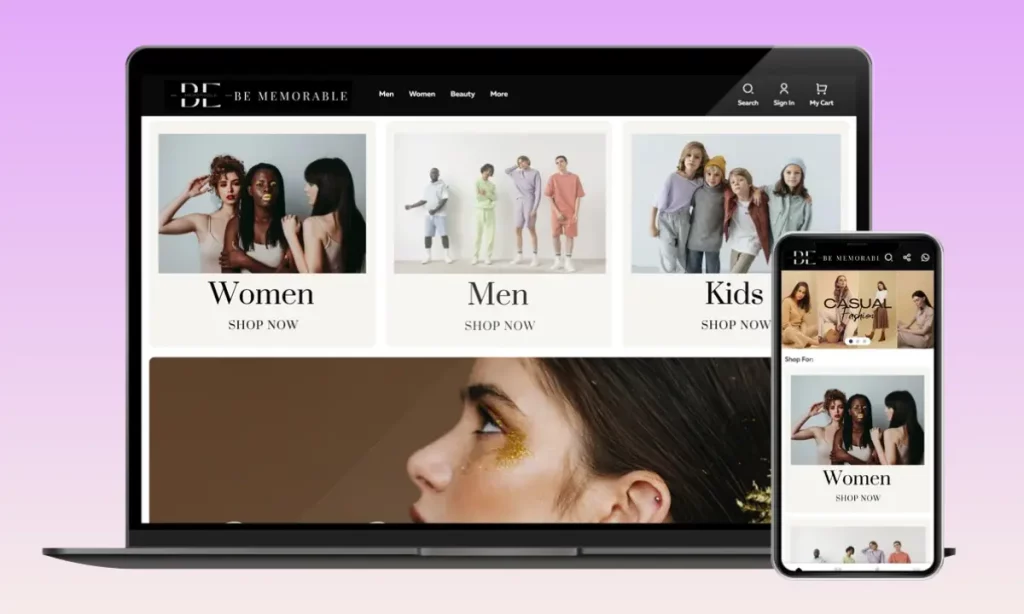 Simplified Navigation Menus & Search Box
Streamlining the navigation menu and search box on a website can lead to a better user experience, increase conversion rates, shorten the time it takes for visitors to complete a transaction, and make it easier for mobile customers to navigate the website.
Mobile-Optimized Checkout
A mobile-optimized checkout makes it easier for customers to complete transactions on mobile devices. It ensures that the checkout procedure is simplified, simple to use, and allows the consumer to provide all essential information without difficulty.
It is important to ensure that the checkout loading time is fast on mobile devices to increase conversion rates and lower cart abandonment rates.
Mobile payment methods like Apple Pay and Google Pay are integrated into many mobile-optimized checkouts, allowing customers to finish their purchases with only a few clicks.
Multiple Payment Gateways
Integration of more than one payment processor
Integrating several payment processors can provide customers with a larger variety of payment methods, such as credit cards, debit cards, e-wallets, and bank transfers. This can lead to improved conversion rates and more purchases.
Additionally, businesses can also broaden their geographic reach and serve clients from various time zones, allowing them to enter new markets and extend their clientele.
Acceptance of multiple types of card payments
Accepting several card types, such as credit cards, debit cards, and prepaid cards, will help you serve a larger range of clientele and satisfy their various preferences and demands. Customers that like using a specific sort of card may now shop on the website, potentially creating new client groups.
For website visitors to turn into paying customers, the checkout process must be quick and easy. A website that accepts many card kinds might benefit from an increased reputation and confidence. International sales can also be made easier by accepting a variety of different cards.
Ensure it's safe & secure
A secure e-commerce website will shield users from fraud, identity theft, and other security lapses. By helping the website perform better and adhere to regulatory requirements, security measures like Content Delivery Networks (CDNs) and caching mechanisms can help prevent fines, legal issues, and reputational harm.
The website owner's dedication to data protection and compliance is demonstrated by staying up to date with pertinent laws and putting the required security measures in place.
Optimized shopping cart & seamless checkout
Simple to use Shopping Cart
A simple-to-use shopping cart makes it simple for customers to add items, see what's in their basket, and finish the checkout process. The entire user experience on an e-commerce website is improved with a clear and easy-to-use shopping cart.
Mobile shopping requires a shopping cart with a responsive design. Increased conversions and user confidence will be the result of a well-designed shopping cart.
The shopping cart should be editable
Depending on their needs, customers could wish to add, remove, or adjust the quantity of a product in their shopping cart at any point of time. Certain things could come in several sizes, colors, or styles. Users may tailor their purchases to their tastes by having access to these choices in their shopping cart.
They could also have to use discount or promotional codes, change their delivery address, payment method, or other checkout-related information. They can also wish to upgrade to a premium version of a product or add similar items.
Simplified checkout process
Reduce cart abandonment and boost conversion rates by shortening the checkout process and minimizing the number of steps by removing pointless form fields and including clear instructions.
Additionally, it also helps speed up the checkout process for mobile consumers by increasing mobile conversion rates. Furthermore, streamlining the procedure can increase customer satisfaction and reduce checkout failures.
Product Description & Reviews
High-Quality Images from Different Angles
High-quality photos of products can help customers make smart purchase decisions and increase conversion rates. This can help your e-commerce website stand out from competitors by utilizing images from various perspectives.
When customers view the goods from multiple angles and post them on social media, it creates buzz, broadens brand exposure, and possibly boosts sales.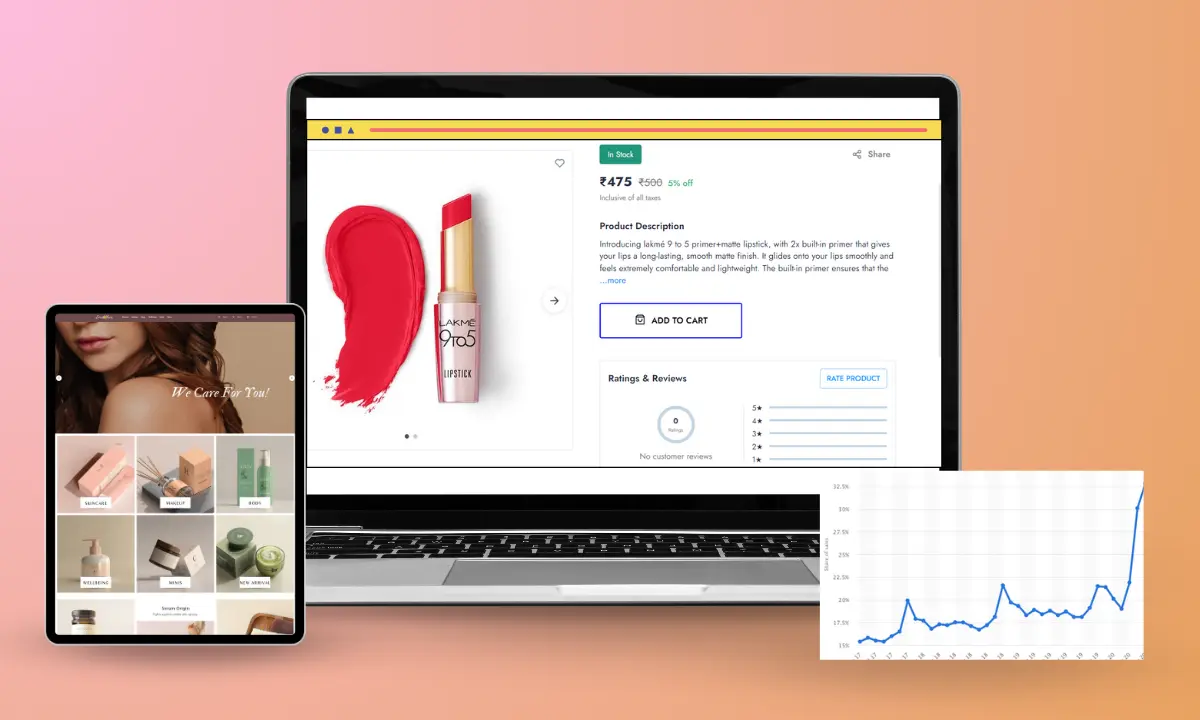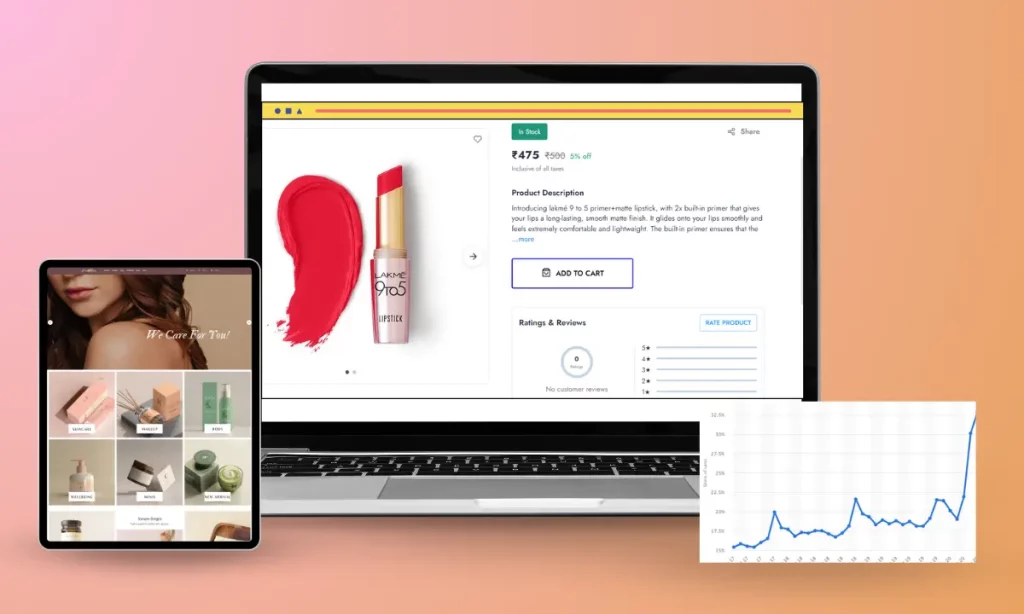 Concise, clear description with all necessary information
Customers are more likely to feel confident in their purchase decision when they have all the information they require. By giving customers the details they need to make a purchase, well-written product descriptions might help in boosting sales.
Customers are more likely to be happy with their purchase when they receive the item they wanted and discover it to be precise as promised. Giving customers a better knowledge of what they are purchasing, and accurate and clear product descriptions with all relevant information, can help reduce the number of returns.
Moderate reviews and remove reviews with bad language, abusive material, or irrelevant data. This helps customers feel more confident that the reviews are reliable and truthful. It also encourages visitors to interact with the website by posting reviews and providing comments. Reviews and other user-generated material may help the website's content stay current and relevant, which benefits SEO.
Omnichannel
Multiple Channel Integration
Integrating an e-commerce website with other platforms can help reach a bigger audience and brand visibility can be boosted. Multi-Channel Integration enables companies to expand their sales channels and become less reliant on a single platform.
It also allows businesses to centralize inventory and order administration, create new marketing possibilities, and reach customers where they are. Moreover, it offers companies useful information and insights on consumer behavior, sales results, and other indicators.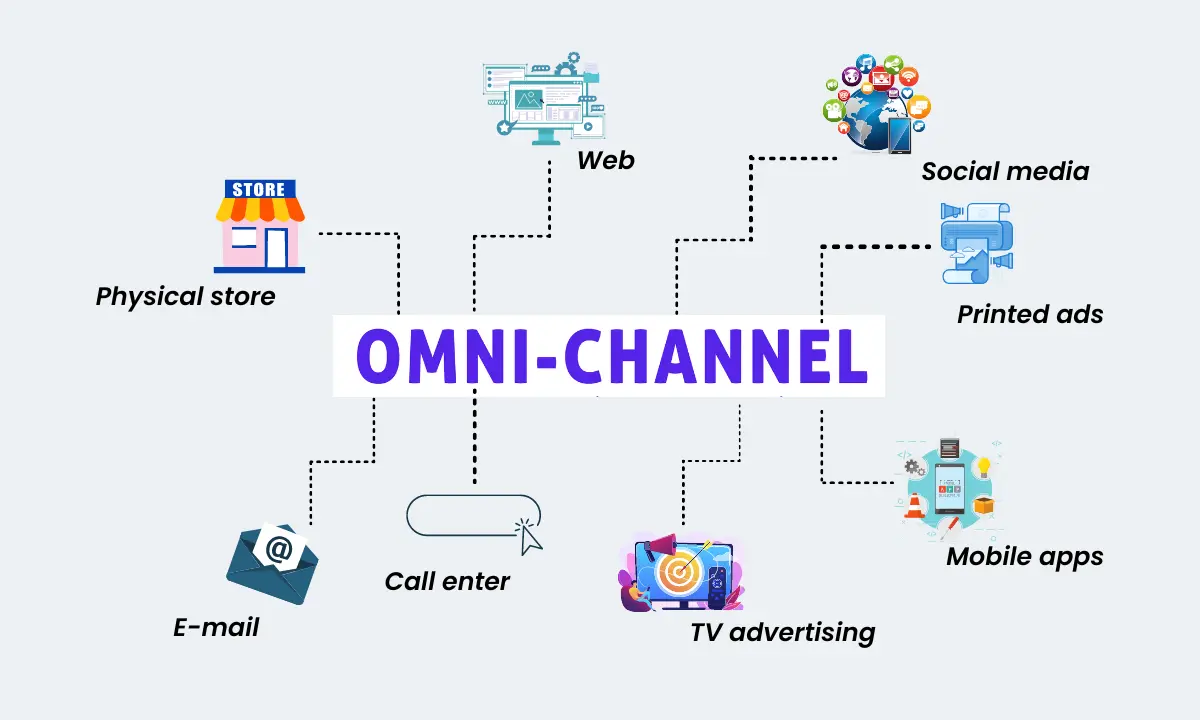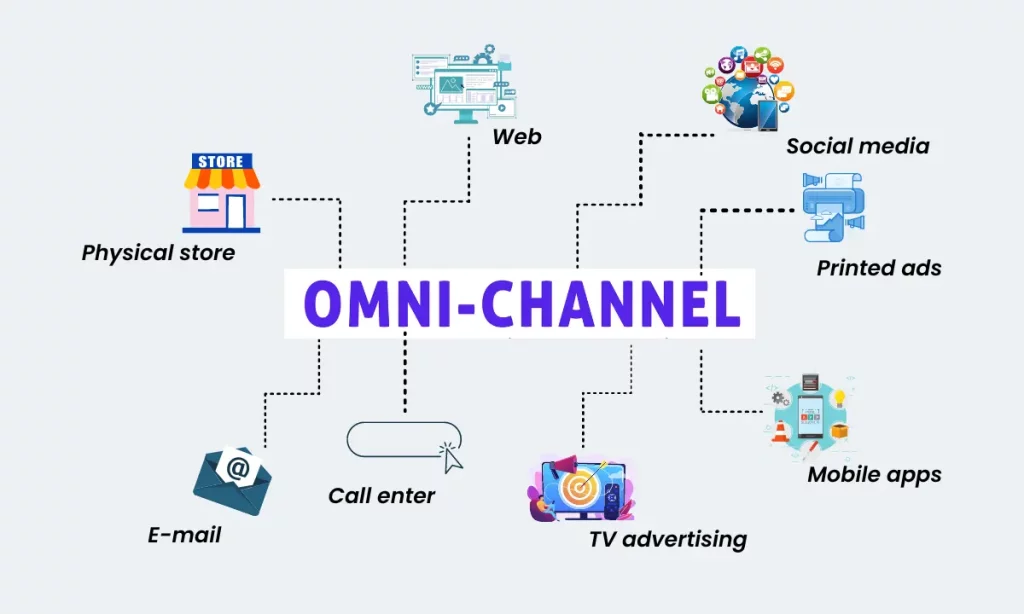 Unified Inventory Management
Unified Inventory Management allows real-time visibility into inventory levels across numerous sales channels or locations and hence, customers can accurately see product availability. Additionally, it centralizes inventory control, making it possible to manage inventory effectively across several warehouses, shops, and online marketplaces.
It can instantly automate inventory modifications across several sales channels or locations, including stock level adjustments, order cancellations, and returns. The total user experience on an e-commerce website is improved by accurate inventory management.
Integrated Fulfillment Options
Integrated fulfillment options let customers select from a variety of delivery options based on their preferences and requirements.
Likewise, they can offer real-time shipping rates and tracking information, access to multiple shipping carriers and methods, automation of tasks like creating shipping labels, managing inventory, and updating order statuses, as well as the freedom to set up customized fulfillment rules based on particular business needs.
Such flexibility could help firms in meeting special fulfillment requirements and offer clients individualized shipping alternatives.
Security Features
The SSL certificate is important as it protects sensitive information from being intercepted or accessed by unauthorized users or hackers by encrypting data passed between a user's web browser and the server of the e-commerce website.
An e-commerce website gains credibility when the URL begins with "https://" and a padlock icon appears in the address bar of the user's web browser.
Additionally, it aids e-commerce websites in adhering to legal requirements, safeguarding users from phishing scams, and improving search engine rankings. This may result in more people visiting and being aware of the e-commerce website.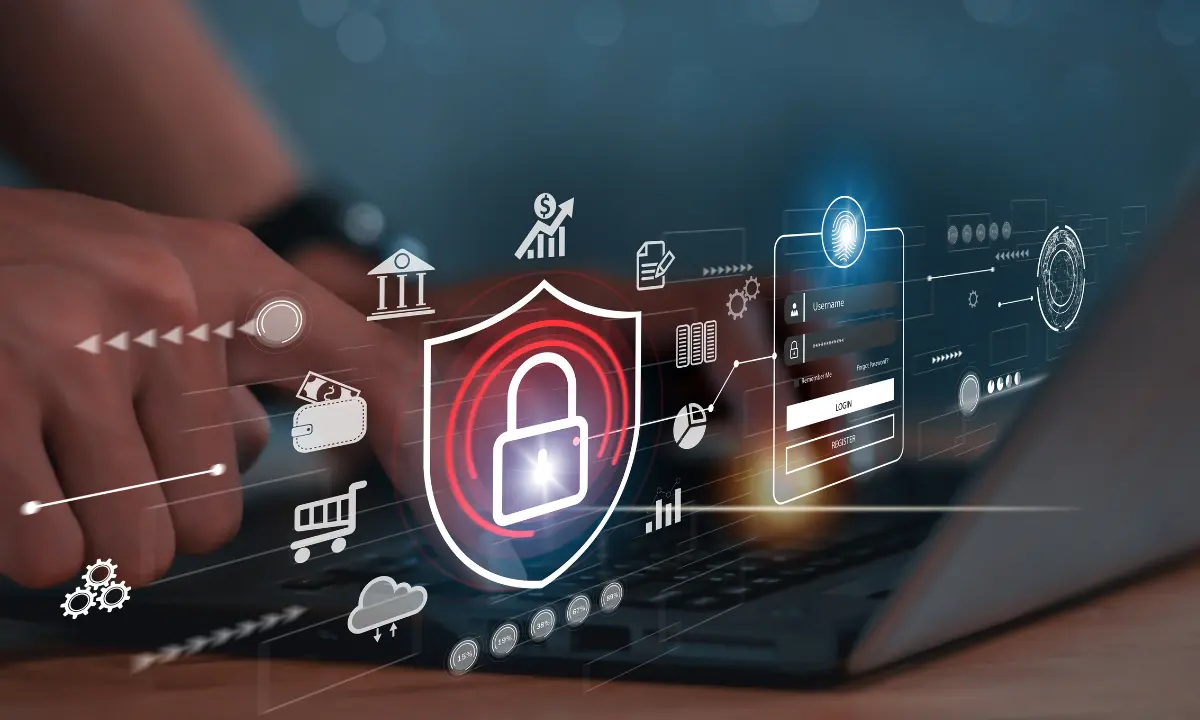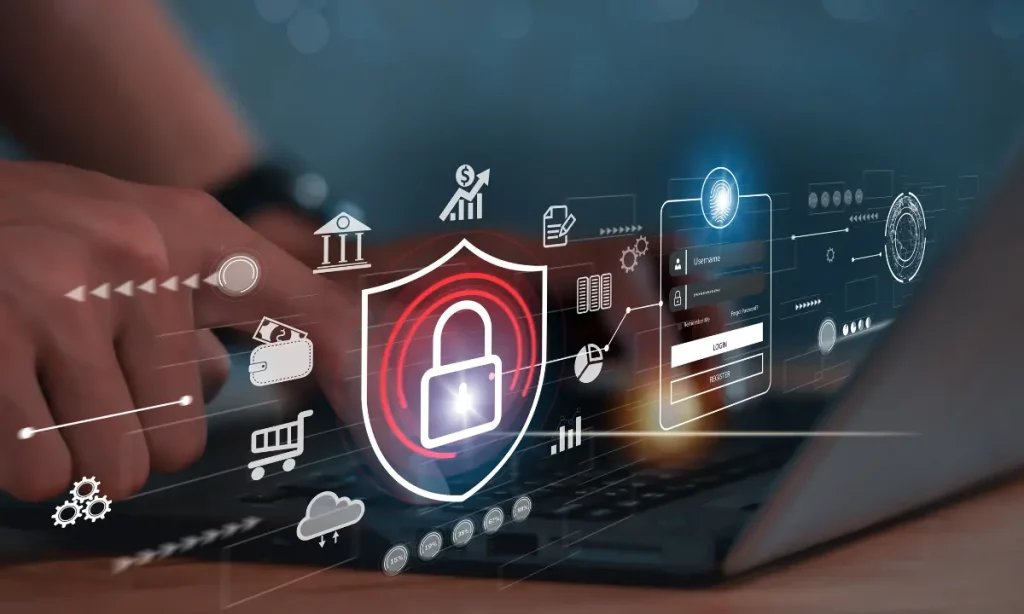 Two-Factor Authentication
Users are required to supply two distinct authentication factors, generally something they know (password) and something they have (one-time code delivered to their mobile device) or something they are (biometric information), as part of a security mechanism known as two-factor authentication (2FA).
To prevent unauthorized access to user accounts, this provides an additional degree of protection. Phishing assaults are a prevalent concern in e-commerce, and weak or repeated passwords are a typical security problem.
Firewall and Anti-Virus Protection
The website server is protected from potential internet attacks by firewalls and antivirus software. They screen both incoming and outgoing traffic, keeping an eye on any questionable behaviour or nefarious efforts to access the website without authorization.
They also aid in preventing Distributed Denial of Service (DDoS) attacks and unauthorized changes to the website's files, scripts, or databases. To guarantee that the program has the most recent virus definitions, security patches, and bug fixes, regular updates and patches are required.
Start your eCommerce website with Unizap today
If you're looking for a SaaS platform that would provide you with all these essential eCommerce features and more, then look no further. Because Unizap provides all the essential features mentioned above and more for the best user experience for their clients.
Not only does Unizap provide omnichannel websites, high-security, and unified inventory management, but it also creates online stores which are responsive, and have optimized shopping carts with single-step checkout and multiple payment processors. A lot more features are offered as well, which are perfect if you are looking to start your online business.
Click here if you want to learn more about all the advantages Unizap can provide you.
Conclusion
In conclusion, eCommerce websites have also become an essential part of today's business landscape, and to succeed in this competitive market, it's important to have a well-designed and feature-rich online store.
The seven features discussed in this blog – a user-friendly interface, mobile-friendly features, multiple payment gateways, optimized shopping cart & seamless checkout, product description & reviews, omnichannel, and security features – are all critical components of a successful eCommerce website.
Implementing these features not only helps attract and retain customers but also helps increase sales and revenue. By focusing on these must-have features, eCommerce businesses can create an exceptional online shopping experience for their customers, gain a competitive edge, and ultimately achieve long-term success.